Honorary title for Pandit Amaradeva
Posted by Editor on September 4, 2014 - 8:16 am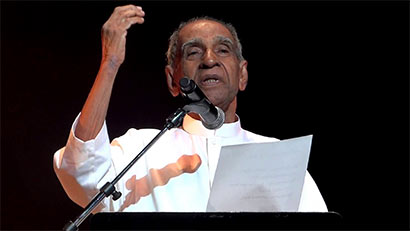 Pandit W.D.Amaradeva will be conferred with the honorary title Jathika Samagiye Maha Sammanaya, the first of its kind created by the National Languages and Social Integration Ministry, on a decision taken by National Integration and Social Intergration Minister Vasudeva Nanayakkara.
The music maestro will be honoured with this title in recognition of his contribution and invaluable service to promote unity, brotherhood, peaceful living, coexistence, reconciliation and national integration via the medium of music.
A ceremony has been organised to felicitate Pandit Amaradeva with a musical fiesta under the theme "Manaveeya Gee Prasanga" on Saturday, September 6, at 6.30 pm at the Auditorium of the National Youth Centre, Maharagama. Members of the local music fraternity will also participate on this occasion.
The ceremony is open to the public who could dial 1956 to obtain free passes from the Ministry.
(Daily News)
Latest Headlines in Sri Lanka