Hundreds killed, thousands missing in Afghan landslide
Posted by Editor on May 3, 2014 - 7:55 am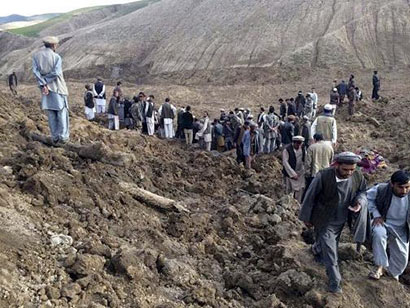 Hundreds of people have been killed and more than 2,000 are missing after a landslide smashed into a village in a mountainous area of north Afghanistan on Friday, and rescue teams were struggling to reach the remote area.
Villagers dug with their bare hands to try to find survivors under the mountain of mud, but officials said there was little hope of finding anyone alive given the scale of the disaster.
Triggered by heavy rain, the side of a mountain collapsed into the village in Argo district at around 11 a.m. (2.30 a.m. ET) as people were trying to recover their belongings and livestock after a smaller landslip hit their homes a few hours earlier.
"There were more than 1,000 families living in that village. A total of 2,100 people – men, women and children – are trapped," Naweed Forotan, a spokesman for the Badakhshan provincial governor, told Reuters.
"As the part of the mountain which collapsed is so big, we don't believe anyone would survive. The government and locals from surrounding villagers are helping with the rescue, and so far they have recovered more then a hundred bodies."
The United Nations Office for the Coordination of Humanitarian Affairs (OCHA) put the number of fatalities at 350.
At least 100 people were being treated for injuries, according to Colonel Abdul Qadeer Sayad, a deputy police chief of Badakhshan, which borders Tajikistan. Hundreds of mudbrick homes were crushed and hundreds more damaged, he said.
DIFFICULT CONDITIONS
Rescue efforts have been hampered by difficult conditions due to a week of heavy rain. Seasonal rains and spring snow melt have caused heavy destruction across large swathes of northern Afghanistan, killing more than 100 people.
President Hamid Karzai ordered Afghan officials to start emergency relief efforts immediately to reach the poor village.
A U.N. representative in Kabul said roads to the village were open but passage was not suitable for heavy machinery.
"Due to the size of the landslide, it is impossible to search for bodies without advanced machinery," Col. Sayad said, "We hope to get some machinery and aid soon tomorrow."
A U.N. representative in Kabul said roads to the village were open but passage was not suitable for heavy machinery.
Mark Bowden, the U.N. humanitarian co-ordinator in Afghanistan, said it may be some time yet until a clear picture of the full extent of the damage is known.
NATO-led coalition troops in the region were discussing search and rescue contributions with Afghan forces, the United Nations said.
U.S. President Barack Obama, in remarks before a news conference at the White House with German Chancellor Angela Merkel, expressed his condolences.
"Just as the United States has stood with the people of Afghanistan through a difficult decade, we stand ready to help our Afghan partners as they respond to this disaster, for even as our war there comes to an end this year, our commitment to Afghanistan and its people will endure," he said.
About 30,000 U.S. soldiers remain in Afghanistan, although that number is falling as Washington prepares to withdraw by the end of this year all combat troops who battled Taliban insurgents.
(Reuters)
Latest Headlines in Sri Lanka