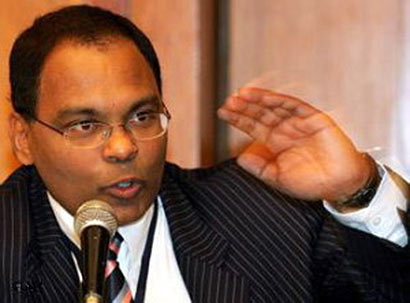 Sri Lankan terrorism expert, Dr Rohan Gunaratna, considers the arrest of suspected Lankan Muslim terrorist Zakir Hussain in Chennai on Tuesday, and the busting of his outfit in Tamil Nadu as being "very significant" for the entire South Asian region.
Gunaratna, who heads the International Centre for Political Violence and Terrorism Research at Singapore's Nanyang Technological University, declined to reveal details, but said that cells such as Hussain's have been functioning in Lanka, the Maldives and India, posing a "severe threat" to the entire region.Author of an authoritative book on Al Qaida, Gunaratna told Express that Hussain was planning to attack targets in Lanka and the Maldives as well as India.
The fact that terror groups are becoming autonomous and developing a life of their own, is making them intractable, Gunaratna pointed out in his comments.
Lankan police spokesman Ajith Rohana said that the Indian authorities have not yet approached Lanka for help to investigate Hussein's activities there.
The apprehended ISI agent and Lankan national Hussain was gathering information on diplomatic missions in the country. Sources said Hussain was assigned to recruit members for Pakistani-based terrorist outfits through networking in the banned outfits operating in the country in order to build a base in Chennai, which would facilitate sabotage missions in the city and at other vital installations.
He was assigned to gather details related to the US Consulate in Chennai and the Israeli Consulate in Bengaluru. He was entrusted with the task of troubling the economy in the region by circulating counterfeits. An official privy to the investigation said that Hussain had been under surveillance by the Central agencies ever since he arrived in the city.
M Daud Ehtisham, Press Attache at the Pakistan High Commission in  SL, told Express that reports of Hussain working at the behest of  Counselor Amir Zubair Siddiqui, are "speculative" and appear to be part of a "malicious media campaign".
Gunaratna's prognosis is that with the US reducing its military presence in Afghanistan, Islamic terror organizations will become more active all over South Asia. "It is of critical importance for India, Lanka, and the Maldives to have a joint approach towards terrorism. It is time Lanka got a modern and integrated border protection agency comprising personnel from immigration,  intelligence, customs, police, the armed forces, and the police narcotic bureau. While retaining the Visa on Arrival regime,  Lanka should introduce a system by which the moment an individual buys an air ticket, the immigration authorities in Colombo will be able to check if he is on their data base on criminals," he pointed out.
(The Island)