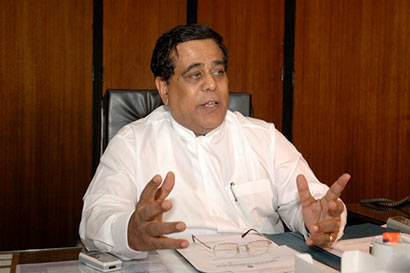 UNHRC resolutions on Sri Lanka are proposed without sufficient understanding with regard to the functioning judicial system of the country, said Transport Minister Nimal Siripala de Silva.
Addressing the media at the SLFP headquaters yesterday, Minister de Silva said that to implement the proposed resolutions of the UNHRC, the constitution and the judicial system has to be changed with the approval of Parliament.
"To establish hybrid courts to investigate on alleged war crimes, the government will have to seek the two thirds majority in Parliament and a referendum as well. There are many issues pertaining to the implementation of the resolutions. Establishment of hybrid courts are not mentioned in the present constitution. Therefore constitutional reforms have to be made instead," he said.
De Silva said the SLFP's stance with regard to the UN report will be made known after the final report is released.
The SLFP has appointed a committee of 12 comprising of former President Chandrika Bandaranaike Kumaratunga to look into the issues pertaining to the final report of the UNHRC which will be released. "The former government firmly rejected the allegations made by the UN and failed to conduct an investigation on war crimes," he said.
(Daily News)