Hyping ISI moles' stories sparked panic: Karunanidhi
Posted by Editor on September 15, 2014 - 8:30 am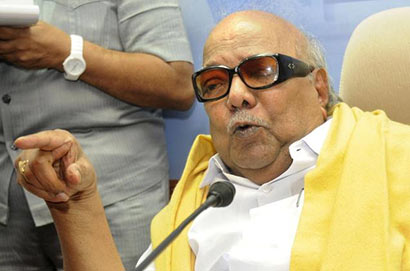 CHENNAI: In a departure from his earlier stand on terrorism related issues, DMK chief M Karunanidhi on Sunday hit out at the ruling AIADMK government saying that the reports regarding recent arrest of ISI spies and their activities in Tamil Nadu have created panic among the people.
"According to the reports the terrorists have planned an attack in Tamil Nadu. The reports also reveal that ISI has been sending spies to the state. The ISI plan is to attack Chennai and launch similar attacks made against Mumbai," Karunanidhi said alluding to official quotes that have appeared in various media. Rarely has the DMK chief spoken openly on such issues preferring to play down sensitive matters.
Referring to the arrest last week of suspected ISI spy Arun Selvarajan by the National Investigation Agency, Karunanidhi said the reports suggest that the man had contacts with a politician. The government should reveal who is that politician, he demanded.
Karunanidhi said it was not the first time a terrorist has been picked up police during the present AIADMK regime. He recalled that while Thameem Ansari was arrested last year from Trichy on espionage charges, another operative, Zakir Hussain, was nabbed here along with three of his accomplices early this year. All of them had worked at the behest of a Pakistani consular official in Sri Lanka, he said.
The former chief minister also recalled the incident when a 'pipe' bomb targeting BJP leader LK Advani while he was on a tour was found and defused in October 2011 near Madurai.
The DMK chief said his government had taken all steps for maintaining law and order in the state, especially on terror prevention front. He recounted how Jayalalithaa in 2008 when she was then the opposition leader had flayed the state government on law and order and had even alleged Tamil Nadu had become a 'safe haven' for terrorists.
Referring to her criticism on his continuing in power after the serial blasts in Coimbatore in 1998, he sought the chief minister's explanation on why nobody has been arrested in connection with the May 1 Chennai central station twin bomb blasts.
(Times of India)
Latest Headlines in Sri Lanka