I am ready to take on any challenge – Minister Fonseka
Posted by Editor on May 5, 2018 - 8:52 am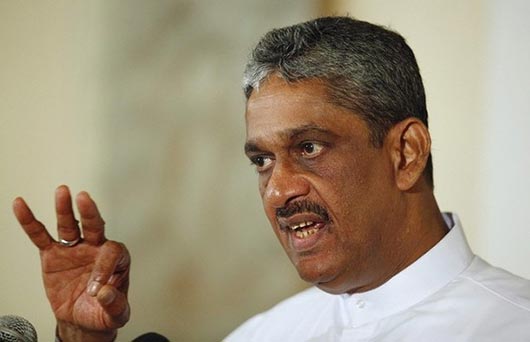 Minister Sarath Fonseka who took over the reins of the Ministry of Wildlife and Sustainable Development this week said he would not yield to political pressure when it came to wildlife policies.
"This is not a ministry that is popular. You only hear of it when an elephant dies. But since I took it over, I have been getting numerous phone calls about it. Some say I will mess it up whilst others say I might shake things up", said Fonseka addressing a media briefing at the Ministry of Regional Development yesterday.
The former Army Commander determined to take on the challenge of protecting the natural assets of the country noted that some decisions he would make would not be popular, but then again he was not known for making popular decisions.
The Minister observed that Sri Lanka had a history of people living in close harmony with nature and thus it was not a hard subject to grasp,
"The bigger challenge is to make the right decisions without letting politics interfere. I will do the right thing so no one can interfere".
The human-elephant conflict he said would take first place in his list of priorities for the ministry and in during his short tenor of the next 19 months, he said he would lay the foundation on how best to protect wildlife while also taking into account the livelihoods of those affected.
"I have noticed that a lot of wrong doings are going on here. Especially when it comes to national parks. They have become dangerous places for animals. Yala has turned into a party place, I will ban alcohol within the park if I have to. If people want to go drink and party, we can arrange a separate place for that".
Fonseka observed that he would have to learn on the job given the limited time, but asked that the people not expect drastic change to take place in the country just because a Cabinet reshuffle took place.
"It is the same politicians with the same weaknesses that have been moved around".
He explained that if people wanted change, they would have to change the political culture of the country and that in the last three years, if nothing had changed, the people too would have to take responsibility for that, "You can't expect change when you are voting for the same people."
(Source: Daily News – By Zahrah Imtiaz)
Latest Headlines in Sri Lanka