I did not back Fonseka, Lanka may miss chance to heal its war wounds – Chandrika
Posted by Editor on April 9, 2012 - 10:58 am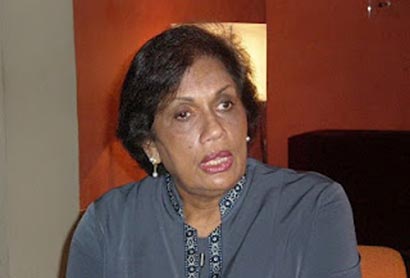 Sri Lanka has a "marvellous opportunity" to heal and reconcile its twin populations after 25 years of civil war, says Chandrika Kumaratunga, Sri Lanka's former prime minister and president.
Which is why she is more than a little baffled at the slowness with which the Mahinda Rajapaksa government is building post-civil war "bridges." "Such opportunities do not last forever," she warned.
"That is why they are called windows and not something larger."
In New Delhi for the first annual conference of her own South Asia Policy and Research Institute (SAPRI), Kumaratunga said that since retired from active politics six years ago, she had dedicated herself to two international organisations, the Club of Madrid and the Clinton Global Initiative.
"Now I have created my own foundation," she says.
SAPRI will look at issues regarding the subcontinent, Kumaratunga says, engaging research scholars globally on these topics.  These deliberations will result in policy recommendations which will be communicated to policy-makers and professionals.
Sri Lanka is still fertile ground for the dissemination of such ideas. While the civil war has seen some repair work accomplished, Kumaratunga says still more needs to be done in terms of physical reconstruction and rehabilitation.
Kumaratunga led Lanka during some of the bloodiest years of the civil war. Today, with a Tamil minority "who want rights but of whom only a small minority still talk of a homeland," she seems worried Colombo doesn't recognize what a good thing it has going for it.
Rajapaksa's abrogation of her promise of Tamil political devolution – a decision he had been party to at the time and did not oppose – was one reason Kumaratunga declined to support him in the last elections.  "Even though he called me eight times asking for support," she remembers.
Kumaratunga strongly denies she backed the rival candidate, General Sarath Fonseka. "Normally I would have supported Rajapaksa: I am still patron and member of our party. But I could not support some of his policies." So she stayed out of the campaign altogether.
If she is concerned at Rajapaksa's minority policies, she is "bewildered" by his foreign policy. "In my time, we practiced nonalignment, which meant keeping good relations with the entire world," she says. This led many Western countries to agree to ban or limit the activities of the Tamil Tigers. Kumaratunga is clearly discomfited with Rajapaksa's confrontational policies with the West and his rhetorical claims to having new "friends" in China, Myanmar and Iran.
"Relations with India are essential and crucial," she stresses. Which leads her to wonder, after New Delhi's recent United Nations vote against Sri Lanka, what has changed there. Two years ago, in similar circumstances, India actually canvassed on Lanka's behalf. "Somethings must have changed," she says. "I do not know what they are."
Unsurprisingly, a key interest of SAPRI, besides development and poverty alleviation, is how such issues lead to conflict. Kumaratunga is much taken with Frances Stewart's work on "horizontal inequalities" and their connection to violence and conflict. "The first priority is that all sections of a population must be brought into a development process," she says. "That is the theme of the conference." Hindustan Times reports.
Latest Headlines in Sri Lanka