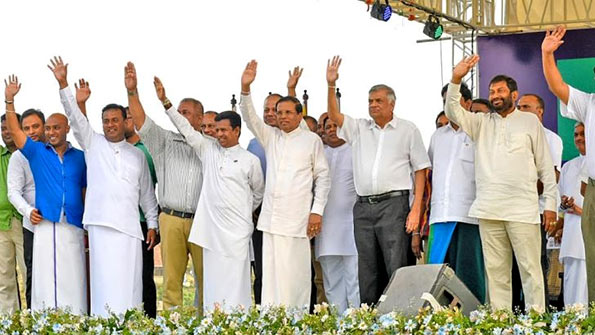 President Maithripala Sirisena emphasizes that he would not let those who crowned with the fraud, corruption, waste and robbery to rule this country again.
"I will work together with Prime Minister Ranil Wickremesinghe to build the country definitely by taking it out from the economic crises, created by the former government, putting ninety thousand million loan burden on the country while talking about a colorful development", he said.
The President was speaking at the first ceremony to mark the five years way ahead of the consensual government, held on 19th August at the Sanath Jayasuriya Playground in Matara.
"Though some groups are trying to change the government with their dreams which never come true, they never will be able to achieve their objectives", he added. The consensual government will be taken forward with a quality and wise political knowledge. The future of its journey will be decided in 2020" the President further said.
"Prime Minister Ranil Wickremesinghe and I love this country than those who shout, appearing as patriots", he said. He emphasized that he would never allow any country or power in world to subjugate the country.
"While the government is acting to solve the problems by taking the proposals of the Human Rights Council into consideration, some people spread false canards by criticizing it. I suggest them to provide relevant options to the government if the proposals selected by us are not good", he stated.
"A strong reconciliation process is carried out in the country by the current government which has a foundation creates a background for the citizens either in the North or the South need to take weapons into their hands", he further said..
President Sirisena said that the consensual government, getting rid of the fraud and corruption, is on a clear path by punishing those who engaged in frauds. "If we get any clear information about any fraud and corruption done by those who are in the current government, they will be punished than the persons who did fraud and corruption during the former government as well", the President further stated.
Prime Minister Ranil Wickremesinghe and the Ministers and the Members of the consensual government in Parliament participated in this occasion.
(President's Media)