I won't stay even one hour if Ranil comes back: President
Posted by Editor on November 1, 2018 - 9:32 am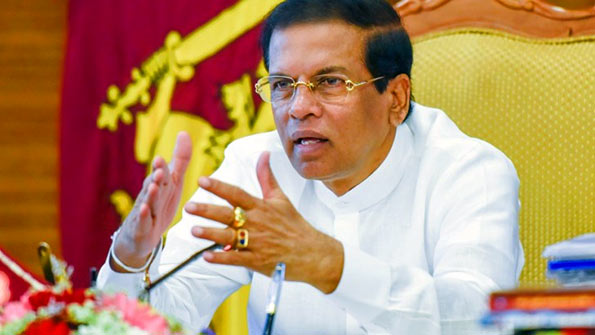 President Maithripala Sirisena has said that he would neither let the North and East to be merged nor allow the country to be a federal state.
He told the SLFP electoral organizers who met him in Colombo that he would have to be killed to get those two done.
The President has told the organizers that some groups had been adamant about the merger of the North and East and the formation of a federal state.
He has said he would not remain as President even for an hour if Ranil Wickremesinghe was reappointed the Prime Minister.
The President has said that he took a bold decision after winning the Presidential election on January 8, 2015 and that the steps he took today were even stronger and that he did so thinking of the country.
He has said that a secretary of the UNP had delivered him a letter after winning the Presidential election in 2015, which contained the need to appoint Ranil Wickremesinghe as the Prime Minister and transfer powers vested in the President by certain clauses in the Constitution and wanted him to sign it.
The President has mentioned that he had sent a reply to the UNP that even though Mr. Wickremesinghe would be made the Prime Minister, the powers vested in the President could not be transferred to him.
He said that was how Mr. Wickremesinghe had acted throughout and that he had endured the last three and half years with great difficulty.
The President said he decided to form a new government after appointing Mahinda Rajapaksa as the Prime Minister as he could not bear it any longer. In addition to this he said a plot to assassinate him had also come to light.
President Sirisena said that he and Premier Rajapaksa were now taking decisions together and have a clear idea about how to take the country forward in the future and asked the organisers not to worry about such matters but carry out their respective tasks successfully.
The President has said the new government could proceed after rectifying the shortcomings that existed earlier and appealed for everyone's support for that to be achieved.
He has said the collapse of the previous government began with the Central Bank bond scam.
President Sirisena has said that the people had made their views on this known very clearly when the results of the last Local Government election took place but the UNP and its leader were unable to understand the message that was sent.
He has said the UNP had been unable to get rid of policies of privatization and selling state property and assets to foreigners and maintained that he had opposed such moves from the very beginning.
(Source: Daily Mirror – By Ajantha Kumara Agalakada)
Latest Headlines in Sri Lanka