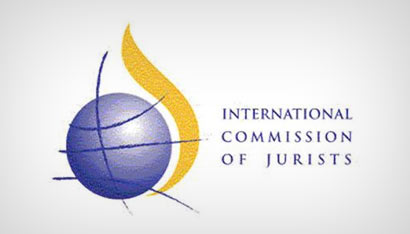 AP – By Bharatha Mallawarachchi
The International Commission of Jurists has condemned the appointment of Mohan Peiris as Sri Lanka's chief justice and urged the government to reinstate the former top judge who was fired after a highly criticized impeachment process.
The group denounced the appointment of Mohan Peiris, a retired attorney general and a legal adviser to the Cabinet, as chief justice, saying it "raises serious concerns about the future of the rule of law and accountability" and "a further assault on the independence of the judiciary."
Peiris, was sworn in before President Mahinda Rajapaksa on Tuesday, two days after Shirani Bandaranayake was dismissed as chief justice, after a parliamentary committee found her guilty of having unexplained wealth and misuse of power.
"Mohan Peiris' appointment as the new chief justice, after a politically compromised and procedurally flawed impeachment, adds serious insult to the gross injury already inflicted on Sri Lanka's long suffering judiciary," Sam Zarifi, ICJ's Asia director, said in a statement on the group's web site.
He said during Peiris' tenure as attorney general and the government's top legal adviser, he "consistently blocked efforts to hold the government responsible for serious human rights violations and disregarded international law and standards."