If individuals without any aim participate in the Convention,court action will be the result –warns Ranil
Posted by Editor on December 12, 2010 - 8:59 am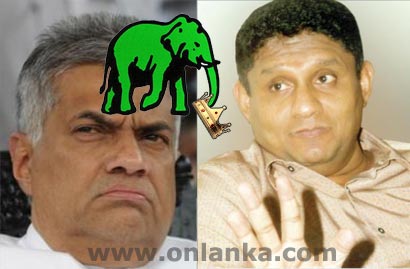 (Lanka-e-News -11.Dec.2010- 10.30PM) The UNP leaders who alleged that the injunction order sought from Court yesterday (10) to stall the UNP special convention scheduled for tomorrow (12) was in pursuance of a Govt. contract have requested those who have received official invitations for the convention to be present at the Sri Kotha at 9.30 a.m. and unanimously support the ratification of the new party constitution.
At today's (11)special media briefing at the UNP leader's official residence , Party leader Ranil Wickremesinghe , Deputy leader Karu Jayasooriya, Gen Secretary Tissa Attanayake and UNP President Jayawickrema Perera made this request.
Ranil Wickremesinghe speaking on the occasion said , as the working Committee has approved the reforms unanimously , at tomorrow's special convention all should ensure that the reforms are ratified in unison . Tomorrow is a very important day , he added.
Because the conspiracy to get a court order against the convention was known ahead , necessary instructions were given prior to the party Lawyer, and proxies signed by him as party leader and Attanayake as party Secretary had been handed over earlier . This caused those efforts to fail, he noted. In any case , only those who have received invitations for the convention should attend it , and if individuals without an aim come for the convention in excess of the expected number , ratification of the draft of the constitutional reforms may have to be done following litigation, Wickremesinghe warned.
Wickremesinghe expressed hope that the ratification of the reforms shall be done peacefully without any untoward incidents . From tomorrow the campaign that was started against Rajapakse regime shall be carried forward to eradicate oppression and restore media freedom. , he added.
Deputy leader of the party Karu Jayasooriya said that there was a consensus among all to introduce party reforms. Hence , that should be pursued. He is happy that efforts made to hamper this have all flopped. If the people are to be freed from fear and poverty , and relieved of their hardships , this country's leadership should be given to the UNP, he observed.
Jayasooriya requested all party members to extend their support to ratify the new constitution peacefully and unanimously in order that a new journey can be commenced with fresh vigor and vitality and forge ahead meeting all the challenges .
UNP Gen. Secretary Tissa Attanayake said, yesterday was a Friday. This injunction order was requested not in keeping with court traditions and the motion was presented to courts at 1.00 p.m. Usually, unless it is a matter of grave importance such petitions are not filed in Court with such secrecy and confidentiality . However , as they were aware well ahead of this move, they had signed the proxies and handed over to the Lawyers sometime ago . This early preventive action enabled to ward off this conspiratorial move, he pointed out.
UNP President Gamini Jayawickrema Perera and Uva PC opposition leader Daya Gamage also spoke.
Latest Headlines in Sri Lanka