IN A VESAK INTERVIEW TO TIMES OF INDIA BANGALORE MAHABODHI SOCIETY SAYS A KANNADA TRIPITAKA IS BEING PRODUCED.
Posted by Editor on May 6, 2012 - 10:26 pm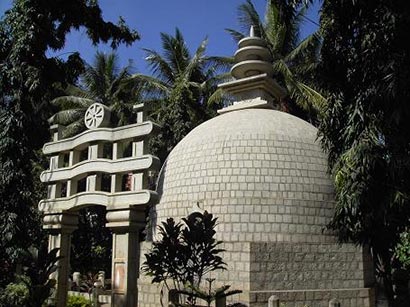 Onlanka News – By Walter Jayawardhana
The Bangalore Mahabodhi Society is translating in parts the Pali Tripitaka into Kannada language said Bhante Ananda, the Secretary of the society in an interview conducted with the Sunday Times of India on the activities of the society in the event of the Vesak celebrations taking place in the city of Bangalore.
"Apart from the spiritual activities, he said, "the Society is developing the casualty and burns sections of the Victoria Hospital."
Of the Vesak festival in particular he said , "The MBS celebrates Buddha Purnima with one week of intensive humanitarian services as Bodhi Saptaha – Enlightenment Week. During this time, we visit various hospitals and give fruit packets to poor patients, pray for them and counsel people in distress. On the day of Purnima, it is a big festival at MBS Vihara where thousands of people come for puja and discourses. Apart from this programme, we conduct temporary ordination for people where they become monks for one week and spend time in meditation and learn Buddha's teachings."
He added,that The society has been conducting weekly meditation classes and Buddhism study classes. The society has published many books on Buddhism.
Bhante Ananda further said, "It was the Mysore Maharaja's wish to have a Buddhist center in Bangalore as he was a benevolent supporter of all religions. He had granted land to a Buddhist mission who requested and offered it to Acharya Buddharakkhita to develop it. That is how he founded the Maha Bodhi Society in Bangalore in 1956. The Acharya chose Bangalore as he had pleasant experience of staying here when he wandered as an ascetic. The people are peaceful and more open to learning."
As a long term goal he emphasized, "MBS would like to develop the Pali and Theravada University into a regular Buddhist university offering high- quality Buddhist education for both monks and the common man."
Latest Headlines in Sri Lanka