'In a volte-face, Jayalalithaa started supporting Tamil Eelam'
Posted by Editor on September 25, 2012 - 12:47 pm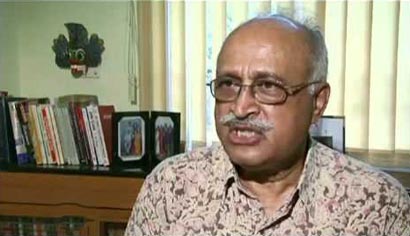 Colonel R Hariharan
A Rediff.com Report
The issue of discrimination against Tamils in Sri Lanka has recently led to strong protests against Lankan President Mahinda Rajapaksa as well as some pilgrims from the island nation.
India and Sri Lanka will be able to tide over the current wave of protests and manage to maintain their friendly ties, believes Colonel R Hariharan.
He is a former Military Intelligence officer and an expert on Sri Lanka, Myanmar and Bangladesh. Colonel Hariharan has also been awarded the Visish Sewa Medal for his stint as the head of the intelligence unit of the Indian Peace Keeping Force in Sri Lanka between 1987 and 1990.
In an interview with rediff.com's Vicky Nanjappa, Colonel Hariharan talks about how Jayalalithaa is using anti-Lanka protests for political mileage and why the Rajapaksa government should immediately address the grievances of the nation's Tamil population
What are your thoughts on the resurfacing of the Sri Lankan Tamil issue, which led to the recent protests against President Mahinda Rajapaksa during his visit to India?
The resurfacing of the Tamil issue is due to the Eelam War which eliminated the Liberation Tigers of Tamil Eelam and its leader Prabhakaran. In Tamil Nadu, small pro-LTTE political groups that had thrived on the Eelam cause were outraged as India failed to intervene and bail out Prabhakaran, as it had done on two earlier occasions. They believe the Dravida Munnettra Kazhagam state government connived in this process with the Centre. During the 2009 parliamentary poll, All India Anna Dravida Munnettra Kazhagam supremo Jayalalithaa found this feeling of betrayal a useful issue in her election campaign.
In a volte-face, she started supporting Tamil Eelam and called for Indian intervention. When the war ended, the plight of Tamils in war-torn areas and alleged Sri Lanka atrocities against Tamils created a wave of sympathy in Tamil Nadu. Jayalalithaa used this sympathy effectively in her campaigns for the assembly election. Since the DMK was routed, she has been using the issue to needle DMK and the United Progressive Alliance coalition at the Centre. She probably feels the call for ban on trade with Lanka can pressurise the Rajapaksa government while strengthening her visibility in national politics.
Will the Sri Lanka issue continue to be a political game-changer in Tamil Nadu? How long do you think this issue will survive?
The issue is not a political game-changer in Tamil Nadu. It was dormant after LTTE cadres assassinated Rajiv Gandhi in 1991. It was resurrected in the circumstances I explained earlier. It will persist in Tamil Nadu till it loses its relevance to Sri Lankan Tamils. Traumatised by the war, Lankan Tamils are now struggling to get back to normal life and the government's actions have not exactly enhanced their confidence and trust. Though the infrastructure is being restored at a rapid pace, peoples' livelihood and political reconciliation of Tamils remain major issues; both India and the United States have repeatedly drawn Colombo's attention to this, with little effect.
What will India, and Tamil Nadu, lose if there is a ban on trade with Sri Lanka?
Demand for a ban on trade with Sri Lanka is part of Jayalalithaa's political rhetoric. Even as we discuss the issue, a 45-member trade delegation of the Tamil Nadu Chamber of Commerce and Industry from Madurai is in Colombo looking for business opportunities. Tamil Nadu is the biggest beneficiary of Indo-Sri Lanka trade. This is the ground reality. International trade is a central subject. As India has a Free Trade Agreement with Sri Lanka, it would not be easy to ban the trade.
India will lose nearly $4 billion in trading opportunities, of which ten percent will be borne by Tamil Nadu. The Lankan backlash would affect Indian entrepreneurs who had invested over $400 million last year in Sri Lanka. The Indian trading space will be occupied by China in due course and in the meantime, Indian trade will be re-routed to Colombo through Singapore and Dubai, with middlemen garnering the profit.
If Sri Lankans feel unsafe to trade with India, is there a chance of other countries stepping in to take advantage of the situation?
Tamil Nadu is not unsafe for Lankan traders, despite some recent incidents. Even if the situation worsens, trade will not stop. As safety of traders is not an issue in other states, Lankans will shift their business to Kerala, Karnataka, and probably Maharashtra. But Jayalalithaa is a shrewd lady; she will ensure protests do not get out of hand.
By driving out Lankan football teams and pilgrims, do we stand to gain anything or are we creating one more enemy country?
India does not consider any of its neighbours — not even Pakistan and China — as an enemy country. So Sri Lanka, a friendly country with special relations with India, will not become 'one more' country. Jayalalithaa has clarified that sending back school football teams and pilgrims was a symbolic act to register her protest against the nation's insensitive handling of the Tamil issue. She has stated that Sri Lankan pilgrims and others can safely visit Tamil Nadu. This is state politics in action, just like our media's focus is on form rather than content!
Do you think there is a chance of the LTTE re-surfacing?
No, not in the near future. The environment in Sri Lanka and the region in 1983 that helped the growth of Tamil militancy do not exist anymore. Strong international protocol to prevent money-laundering and the transnational spread of terrorism adopted after the 9/11 Al Qaeda strikes in the US are in force now. These make flow of international support to insurgencies very difficult and risky. And lastly, a leader with Prabhakaran's charisma and goal orientation is not in the horizon.
But the Sri Lanka government's indifference to Tamil sensitivities provides enough opportunities for LTTE remnants abroad to use anti-Sri Lanka feeling among the Tamil diaspora to revive separatism as the first step. And this is what is happening.
Tiger Prabhakaran is seen as a hero or champion by many. What are your views about him?
The answer to this question requires a thesis. Prabhakaran was a complex personality; he was ruthless, ambitious and autocratic. He was totally committed to achieving an independent Tamil Eelam by military means. He had no time for politicians and did not bother about the means to achieve his end.  He would never allow contrarian views.
These were his strengths as well as his weak points. Thus, he missed opportunities offered by the peace process in 2002 to evolve a win-win result without bloodshed. Closeted from the world, perhaps he did was not aware of the security environment in India and the fact that the world had changed for the worse, for the LTTE to operate with its earlier impunity. He lost the war because he failed to notice the determination of the Sri Lanka leadership to eliminate him and the LTTE, using the new global environment.
Do you think the Sri Lankan government is doing enough to rehabilitate Tamils?
The Sri Lanka government has done well to improve road infrastructure and is in the process of further improving public services. It has done a remarkable job in clearing nearly 300,000 mines. Having said this, there are major deficiencies in the way it does many of these things. The governors of northern and eastern provinces are retired military officers — naturally Sinhalas. The development plans are made centrally so there is lack of ownership among locals. Permanent army camps are being built for military families on priority basis while many habitations of the locals are delayed due to red tape.
Though the army has released over 10,000 former LTTE combatants after some rehabilitation training, many of them are yet to find jobs. Largescale presence of the army in the Northern Province acts as a visible reminder to the population on who calls the shots. Even social activities require informal clearance by the army authorities. Many properties occupied by the military are yet to be returned to rightful owners as land documentation is in a mess.
And though there is talk of provincial council elections in north, they will take place only next year, indicating that Colombo is not politically comfortable with a Tamil opposition in power in the provincial council. Cumulatively, these issues have created a general feeling of despair and belied expectation among the Tamil population.
Is there a solution in sight to the Tamil problem? What do you think both countries could do to solve this problem?
Of course, there is a solution if both Tamils and Sinhalas move from their rigid positions and work together to arrive at a solution. Sri Lanka has the same South Asian political tendency — to use every trick to prolong issues for political advantage rather than resolving them. The political reconciliation process is going on like a tug of war.
Committees galore have sat, discussed and debated without the government taking action to produce results. I expect it to drag on for some time — probably till the next elections. I hope they do it sooner.
When you say both countries, I presume you mean Sri Lanka and India. India should encourage Sri Lanka's Tamil political parties to talk with their Lankan counterparts to find a solution. At the same time, it should lean on the Sri Lanka government to show some action. India's credibility among Tamils and Sinhalas will go up if Tamil Nadu makes a positive contribution to improve the living condition of internally displaced people, rather than raising anti-Lanka rhetoric.
New Delhi should work with Jayalalitha for this. For instance, Tamil Nadu can encourage investment in enterprises in northern and eastern provinces so that there are more job opportunities for the youth. Thousands of seats in colleges in Tamil Nadu remain vacant; they can be allotted preferentially to Sri Lanka Tamils.
Of course, the Sri Lanka government should show it is sincere in investigating war crimes, human rights violations and restoring full freedom. Authoritarian politics of the ruling coalition has affected its credibility and affected the rule of law. If a more people-sensitive style is adopted, the government will help improve its functioning.
Do you think New Delhi should take a stronger stance rather than let states hijack issues which form national policy?
How can a precarious coalition in New Delhi control ambitious regional satraps on whom it depends upon to stay in power? The answer lies in improving confidence levels in Centre-state relations; this can come through only if national consensus on key issues is evolved with states' participation (mere parliamentary vote is not enough). Unfortunately, there is little consensus within national parties themselves on such issues, let alone with others. Unless a powerful leader emerges at the Centre, a period of political drift in national policy-making appears inevitable.
Some think-tanks have suggested the presence of groups such as the Lashkar-e-Tayiba in Lanka? How serious is this threat?
Sri Lankan Muslims are Sufis who get along with all communities very well. A majority of them are Tamil-speaking and have close connections with India. It would be incorrect to brand them as anti-Indian. Having said that, we have to recognise that Colombo has long been used by the Inter Services Intelligence for their operations and some Lankan Muslims have been involved with them.
According to terrorism expert B Raman, the ISI has created bases in Bangkok, Colombo and Kathmandu, for covert action and intelligence collection. He says the Colombo base uses Muslims from the eastern province mainly for collecting sensitive information about nuclear and missile establishments in Tamil Nadu and Kerala. Colombo is also used as a convenient point for the ISI to meet its Indian agents without arousing any suspicion.
Pakistan International Airlines links Colombo and Pakistan and this enables agents to go to Pakistan without the knowledge of Indian authorities. The posting of Colonel Bashir Walit, former director of Pakistan's Intelligence Bureau, as Pakistan's high commissioner in Colombo by the Pervez Musharraf regime showed the importance Pakistan attaches to Colombo.
Saudi money has been flowing into Sri Lanka to propagate Wahabi fundamentalism. As a corollary, we can expect more radicalisation of some of the Muslim population. Jihadi terror had followed such moves in other countries. I am sure the Sri Lankan government, despite its friendly relations with Pakistan, is aware of the dangers of Sri Lanka becoming a hot bed of Jihadi terror or Pakistan's intelligence intrigues. We need to be constantly vigilant on this count.
A Rediff.com Report
Latest Headlines in Sri Lanka