Sri Lanka marks its presence at International French Travel Market – IFTM TOP RESA 2012
Posted by Editor on September 25, 2012 - 12:56 pm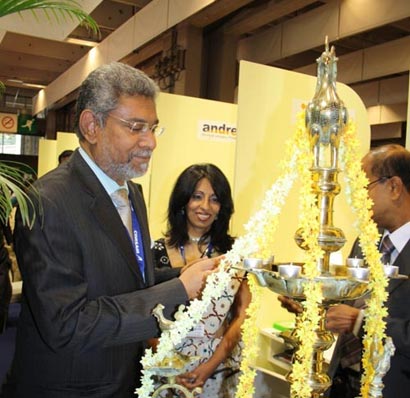 Sri Lanka participated at the annual IFTM Top Resa (International French Travel Market) that was held in Paris from September 18 th to September 21 st, 2012.
Flagship fair for the tourism sector, IFTM Top Resa brings every year thousands of travel agents from across the world who come to present their products and services to the industry's production and distribution professionals.
18 Sri Lankan tour operators were present at this year's edition which focused on Business Travel : Aitken Spence Hotels, Aitken Spence Travels, Amaya Resorts & Spa, Andrews the Travel Company, Ceylon Tours, Connaissance de Ceylan, Hayley's Travels & Tours, Jetwing Hotels & Travels, Lanka Holiday Destinations/Pigeon Island Beach Resort, Lanka Sportreizen, Lion Royal (Pvt) Ltd, Nkar Travels & Tours, Sri Lanka Express, Sunway Holidays, The Fortress Hotel, Visit Lanka, Walkers Tours, and Yathra Travels.
Ambassador Dr. Dayan Jayatilleka and Madam Sanja Jayatilleka lit the traditional oil lamp to mark the opening of the Sri Lankan pavilion. The event included a tea tasting service conducted by the Embassy of Sri Lanka in Paris with the assistance of Sri Lanka Tourism Promotion Bureau, where a variety of Sri Lankan tea was presented to the public.
Tasting Sri Lankan tea
" IFTM is the occasion to consolidate contacts in the French market. It is important for Sri Lanka to show its presence " highlighted Mr. Udayakumara Liyanage from Sri Lanka Tourism Promotion Bureau (SLTPB).
Many shared their appreciation in regard to the organization and coordination provided by the Embassy of Sri Lanka in Paris and SLTPB throughout the fair. " The fair was very well organized and was quite successful for Amaya Resort that got several inquiries. It was, overall, very good " said Mr. Denesh Silva, Director/Marketing & Sales at Amaya Resorts & Spa. The positive atmosphere of the fair was reiterated by Mr. Mahen Kariyawasan, President of SLAITO (Sri Lanka Association of Inbound Tour Operators).
Talking about NKAR Travels & Tours, Managing Director Mr. Nilmin Nanayakkara also highlighted the success of this year's edition: " In May, in advance to IFTM, NKAR did its own campaign with 20 to 25 visits to tour operators. Many are operating to Asia but not to Sri Lanka. So much opportunity is out there in the market if we make an effort. These visits, along with IFTM, were fruitful for NKAR as we worked in those lines. We were hence able to secure five new accounts at IFTM without undermining any of our colleagues."
" Top Resa is a good networking opportunity […] At the end of the day business, especially in this industry, is done on relationships. Strong relationships make a strong business. At the moment, Sri Lanka is having 20% of increase in terms of arrivals from France. That is why Jetwings Hotels decided to come to Top Resa and the feedback has been good. We met a lot of tour operators, a lot of agents who are very keen to sell Sri Lanka so I think they are getting a lot of request from French people wanting to visit the destination." said Mr. Ishanth Gunewardene, Head of Sales & Marketing for Jetwings Hotels & Travels.
Since 2010, the attraction of French tourists to Sri Lanka has experienced an important growth. This was confirmed by the vast interest shown by both the professionals and the public throughout the fair.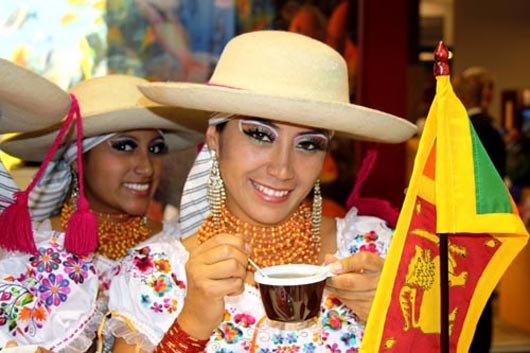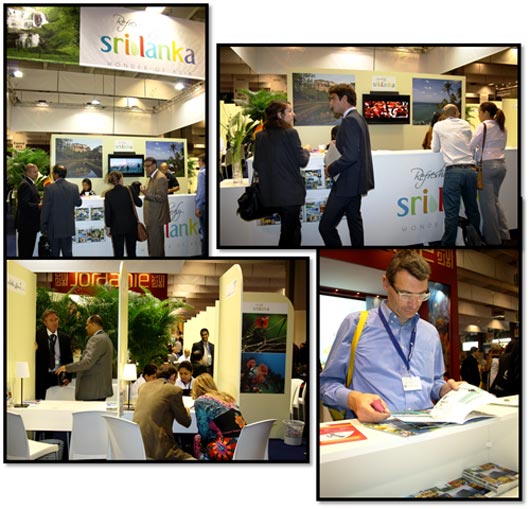 Embassy of Sri Lanka
Paris
Latest Headlines in Sri Lanka