In a Welimada Poultry Farm the Chicken Came first before the Egg!
Posted by Editor on May 4, 2012 - 2:43 pm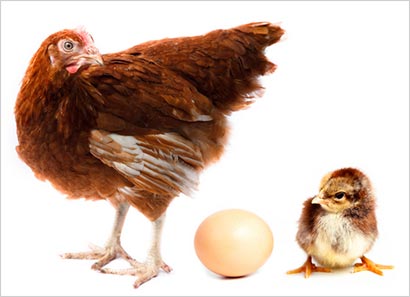 Onlanka News – By Walter Jayawardhana
The question asked often is what came first? The chicken or the egg?  For a Welimada poultry farm owner he is sure sometimes the chicken also comes first.
The veterinary surgeon in Welimada in Uva province told reporters that in a freak birth one of the hens in a poultry farm there gave birth to a live chicken. But when the chicken saw the light
of this world the mother hen came to the end of her life by lacerations in the reproductive tracts in her body.
The veterinary surgeon P.R.Yapa said the egg appeared to be incubated inside the hen for 21 days and the hen had to die when the chicken came out. He said, "I had only heard about such aberrations, but I was able to see it for myself today."
He said after the free range farm owners contacted him about the highly unusual occurrence he held a post mortem on the body of the dead hen . "There were lacerations and a tear of the reproductive tract that caused the death," Yapa said. "The baby is doing well."
Latest Headlines in Sri Lanka