Incident in Yorkshire: UK TO BE PUT ON NOTICE ON STUDENT MURDER
Posted by Editor on October 31, 2013 - 7:14 am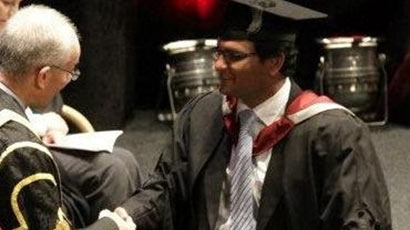 Murdered Thavisha Lakindu Peiris on his graduation day Credit: South Yorkshire Police
The External Affairs Ministry yesterday called for a comprehensive report on the killing of a Sri Lankan Student in Yorkshire, England.
The Ministry has informed the Sri Lankan mission in London to look into every detail with regard to the murder and the steps taken by the British Government to investigate it.
According to Public Communication Director of the External Affairs Ministry, Rodney Perera, the Ministry will take further steps through diplomatic channels with regard to the murder based on the report of the Sri Lankan mission in the UK.
"We are awaiting the report to decide on further steps to be taken with regard to the murder and its investigation process", he said.
Thavisha Peiris, a Buddhist who had arrived in Sheffield in 2011 to study at Sheffield Hallam University as a IT student, was working at a pizza shop as delivery man when he was stabbed to death in Sheffield Sunday night.
He was found slumped at the wheel of his car on Sunday evening in the Southey area of Sheffield. At the time, he was on his way to deliver a takeaway.
(Courtesy: Daily News)
Latest Headlines in Sri Lanka