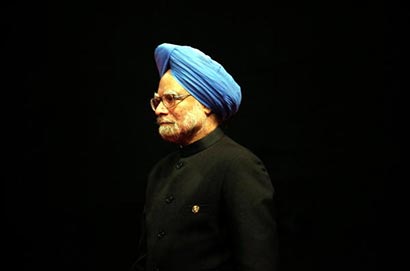 Indian Prime Minister Manmohan Singh will be meeting his top political advisers to decide on whether he will travel to Sri Lanka for the CHOGM on November 15. Quite apart from the noise being made by Tamil political parties, almost everybody else will advise the PM to go.
A strong message has come from C V Wigneswaran, the new chief minister of Sri Lanka's northern provincial council. In a recent message to the Indian government, he has asked that Singh should attend CHOGM, and the PM could use the opportunity to send the message he needs to. This was the first time a Tamil party has been allowed to form a provincial government by Colombo. On his return from Lanka, foreign minister Salman Khurshid has also advised that Indian participation at CHOGM would be in New Delhi's interest.
What is at stake here? First, Sri Lanka is one of India's most important neighbours since it is politically and strategically on the same page. For example, Lanka is a lynchpin of New Delhi's Indian Ocean Region (IOR) strategy. If India downgrades its participation in CHOGM, it runs the risk of "losing" Lanka to the likes of China, who is quick to exploit the opportunity to expand its strategic footprint into IOR. China built Hambantota port, but India dominates strategic ground there. Even Pakistan, despite its limited resources, has been engaging Colombo with alacrity, primarily to take up the space that India is ceding in the island nation.
Second, India as the big regional power has never missed a multilateral summit in its own region. In 2004, India signalled displeasure with Bangladesh, which then rescheduled the SAARC summit. All members of the Commonwealth will be attending CHOGM, including all India's neighbours at the head-of-state level, except Canada, which continues to have the highest numbers of LTTE enthusiasts. If the PM does not go, India could be seen to be on the side of these radical elements. LTTE may have died in Sri Lanka, but the idea remains alive in many Western countries. LTTE had assassinated former PM Rajiv Gandhi in 1991.
Third, India's leverage with Sri Lanka would vanish. This would make it impossible to influence Lankan behaviour particularly with regard to the fishermen issue, close to hearts of all Tamil politicians in India. Despite Mahinda Rajapaksa being seen as a version of an autocrat, at least in the past few years India has been able to significantly influence big decisions in Lanka, primarily because there remains an "inner track" of communication at the top level. Humiliating Rajapaksa by boycotting the summit could close that track.
Lanka's recent northern council elections came about as a result of Indian persuasion, as did their decision to let the UN High Commissioner for human rights have full access to the region. A recent government assessment said Rajapaksa would have gone ahead with diluting the 13th amendment but has put it on hold in deference to New Delhi's wishes. In India's absence, this dilution would probably go through. Colombo has indicated it will downgrade economic and defence ties with India. Most important, Indian fishermen would be at the mercy of Lankan forces at sea.
The political forces who want the PM to boycott CHOGM include almost all the Tamil political parties. The AIADMK has traditionally been opposed to LTTE, but in recent years has taken a more assertive approach to pan-Tamil politics, including preventing fishermen from both sides meeting each other to sort out the problem. In the Northern Province too, some of the disgruntled members of the TNA like some members of the Suresh Premchandran faction as well as the Tamil diaspora – prime supporters of the LTTE – have been drumming up opinion against an Indian participation. DMK has traditionally been supportive of Lankan Tamils, though even they were quiet during the last weeks of the military campaign against LTTE. (Times of India)