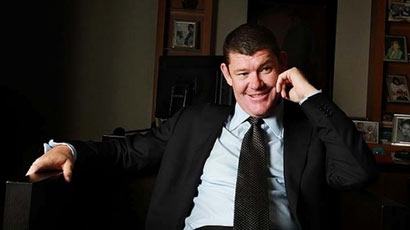 While the government has given the impression the proposed Casino project in Colombo has been put on hold following stiff opposition, Crown chairman billionaire James Packer has told his shareholders the project was still on.
The Australian Associated Press quoted Packer as saying an ambitious program to expand the number of his integrated hotel and casino resorts in Asia and Australia is affordable.
Packer told shareholders at the company's annual general meeting today that the expansion in Asia would be "self-funding", and the company would increase its debt to expand in Australia and upgrade existing operations here.
Mr Packer said about half of Crown's value as a company was now in its joint-venture hotel-casino operations with Melco International in Macau.
"Sri Lanka (a proposed casino there) is not going to be an earth-moving cheque," Packer was quoted as saying.
Packer said it was worth retaining more of the company's earnings to "build out" Crown's facilities in Melbourne, Sydney and Perth and assets in Asia.
"Asia is self-funding, and we're going to build Sydney and Perth out of increasing our debt a little bit but retaining some earnings," Packer said.
Crown has been upgrading its Australian casinos to make them more competitive with new casino resorts in Asia and attract more high-rolling gamblers from China.
This month, Crown confirmed that it was in talks with the Sri Lankan government to develop a $US400 million casino resort in Colombo.
(Courtesy: Colombo Gazette)