Wigneswaran invites Manmohan to visit Jaffna
Posted by Editor on October 31, 2013 - 9:05 am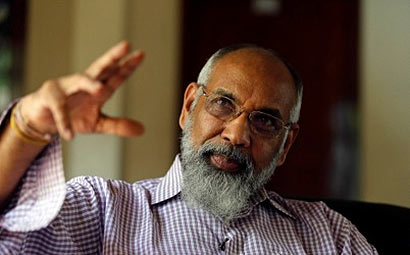 While a decision is still to be taken on whether the Prime Minister will attend the Commonwealth Heads of Government Meeting in Colombo, Sri Lanka's Northern Province Chief Minister C.V. Wigneswaran has invited Manmohan Singh to visit Jaffna.
In a message to Dr. Singh, Mr. Wigneswaran thanked the Prime Minister and India for "persuading the Sri Lankan government" to hold the Northern Province elections under the 13th Amendment. He underlined that he had won the elections in the province — the focal point of fierce battles between Sri Lankan armed forces and the Liberation Tigers of Tamil Eelam, with a large number of civilians badly affected — by a "sizeable majority."
"Basically, Mr. Wigneswaran would like Dr. Singh to engage both in Colombo and Jaffna. This also shows that Sri Lanka's Tamil community wants India to remain engaged on issues important to them such as national reconciliation, political devolution of power and resettlement of the displaced," said official sources about their reading after External Affairs Minister Salman Khurshid met Mr. Wigneswaran in Jaffna earlier this month, which was followed up with Monday's letter to the Prime Minister.
Besides trying to persuade Colombo to provide more autonomy to the Northern Province, New Delhi is involved in rehabilitation and resettlement programmes. But taking note of the allegations of human rights abuses during the conflict and problems faced by Tamil Nadu fishermen, the State Assembly passed a resolution calling on the Centre to completely boycott CHOGM.
Against this scenario, Mr. Khurshid recently said, "By not engaging with Sri Lanka, India would be losing out. How can India do it without engaging?" MEA officials too feel that the new Northern Province leadership should be given the space to negotiate more autonomy with Colombo.
The officials also drew attention to contradictory approaches in India to the Tamils issue in Sri Lanka. "Practically everyday we are reminded by the Tamil Nadu government to do something about the fishermen issue. On the other hand, we are asked not to have any dialogue."
"To break ties by giving in to sentimental and emotional reasons would not be correct. This is a crunch time in the region and India's strategic, security and national interests should come first. India should not cede space to others by not being there [at CHOGM]," they added.
(The Hindu)
Latest Headlines in Sri Lanka