India and Sri Lanka sign agreements on international teerrorism and double taxation
Posted by Editor on January 23, 2013 - 7:38 am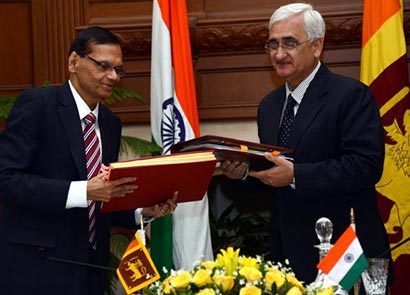 India and Sri Lanka on Tuesday signed two separate agreements on combating international terrorism and avoidance of double taxation, eyeing elevation of "robust" bilateral ties to building of a special economic partnership.
The two key accords were signed after the 8th India-Sri Lanka Joint Commission meeting held here discussed enhanced cooperation in a range of areas including civil nuclear energy.
At the meeting, the Indian side was led by External Affairs Minister Salman Khurshid while the Lankans were led by his counterpart G.L. Peiris.
The two sides also discussed the emotive issue of fishermen and rehabilitation process of Tamils in Sri Lanka besides the 13th Amendment of the Lankan constitution that gives autonomy to provinces.
"We comprehensively reviewed bilateral relations", Mr. Khurshid told reporters here.
The Minister said that in his separate discussions with Peiris, he referred to the need for continued dialogue between the Lankan government and representatives of Sri Lankan Tamil community.
He said this has to be done "with a view towards ensuring a future for the Tamil community that is marked by equality, dignity, justice and self-respect all of which are respected by Sri Lanka.
"We hope that there will be early progress on meaningful devolution building upon the 13th Amendment and leading to national reconciliation", according to Mr. Khurshid.
India and Sri Lanka are each other's largest trade partners in South Asia.
"Given the vast untapped potential, we have stressed the need for intensive consultations towards a more comprehensive framework for economic cooperation and building of a special economic partnership," Mr. Khurshid said.
"In this context, it was also agreed to initiate a dialogue between Commerce Secretary of India and Secretary of the Ministry of Finance and Economic Development of Sri Lanka at an early date to evolve a framework for a special economic partnership between the two countries," a Joint Statement issued after the meeting said. (Courtesy The Hindu)
Latest Headlines in Sri Lanka