India and Sri Lanka to work on faster repatriation of fishermen
Posted by Editor on January 15, 2012 - 7:07 am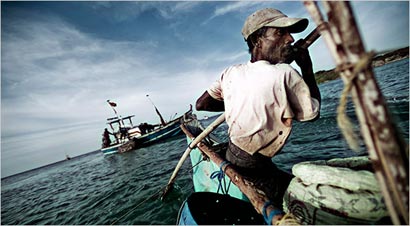 Addressing a long-standing issue raised by Sri Lankans, India on Saturday agreed to work on faster repatriation of Sri Lankan fishermen who get stranded in Indian waters.
The Centre could not give this assurance on its own and hence, involved the States where the majority of these fishermen are arrested — either when they are indulging in poaching or stranded because of mechanical failure of their boats.
States, led by Tamil Nadu, have evolved a mechanism to repatriate genuine fishermen. Andhra Pradesh, Odisha, and the Andaman and Nicobar Islands too have set in motion the process to create such mechanisms.
The fourth meeting of the India-Sri Lanka Joint Working Group on Fisheries held here expanded on the gains made in the March 2011 New Delhi round. The Joint Working Group agreed to meet every six months to sort out outstanding issues.
"The two sides agreed to enhance cooperation that would allow both countries to pursue their fishing activity in a safe, secure and sustainable manner, including discouraging fishermen from using destructive fishing methods. They also discussed measures for the expeditious release of bona fide fishermen from both countries," a joint statement said.
Dialogue to continue
"Both sides noted the importance of an ongoing engagement between fishermen and fishermen's associations in India and Sri Lanka. They agreed to encourage a continued dialogue process between the fishermen communities of the two countries through regular meetings. In this context, it was agreed that a delegation of fishermen's representatives from Sri Lanka would visit India at the earliest in 2012," it added.
The Sri Lankan delegation was led by Kshenuka Senewiratne, Additional Secretary, Ministry of External Affairs of Sri Lanka and the Indian delegation by Harsh Vardhan Shringla, Joint Secretary, Ministry of External Affairs of India.
The 11-member Indian delegation had representatives from Tamil Nadu, Andhra Pradesh, and a host of agencies, including the Indian Coast Guard.
Source: The Hindu
Latest Headlines in Sri Lanka