India awaits Lanka nod to execute rail projects
Posted by Editor on January 28, 2016 - 8:55 am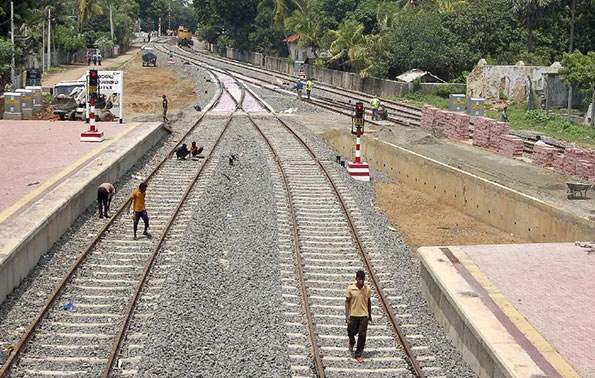 IRCON International, the Indian Railways' construction company, is awaiting the Sri Lankan government's nod to execute US$ 468 million worth of railway construction projects in the island nation, the company's outgoing country representative, Shyam Lal Gupta, told news persons in Colombo.
Out of the US$ 468 million, US$ 150 million is the unspent part the earlier Indian Line of Credit of US$ 800 million, and US$ 318 million is the amount pledged by India's Prime Minister Narendra Modi when he was here last year.
The projects that IRCON is keen on are: the 60 km stretch between Anuradhapura and Omanthai; the 60 km stretch from Anuradhapura to Maho; and the 60 km stretch from Maho to Polgahawela.
However, an apparent lack of interest on the part of Lankan authorities in improving the neglected railway system in the country is worrying IRCON. "There has been no formal response to the fresh Indian proposals thus far," Gupta said.
On complaints about material quality and malfunctioning of equipment in IRCON executed projects in North and South Lanka, Gupta said that the problems are minor.
"The materials supplied were as per Lankan requirements. Further, teething troubles are common in new projects and are being attended to at IRCON's cost as per Defect Liability and Warranty obligations," he said.
The claim that the state-owned Sri Lanka Railways (SLR) could have done the same jobs at lower cost is unproven, as SLR is yet to do a single similar comprehensive job anywhere in the island, Gupta said.
"The SLR had undertaken to upgrade the Colombo-Kalutara stretch, but they have not done that yet. If they are competent why can't they do that?" he asked.
That the criticisms leveled against IRCON have no basis will come to light if a tender is floated and a comparison with competitors is made in terms of the task, material quality and cost, Gupta contended.
Explaining the circumstances in which IRCON accepted projects without a tender, Gupta said that tenders were not floated in 2009, because the Lankan government wanted to start infrastructural development work immediately after Eelam War IV ended. At that time, India offered an US$ 800 million Line of Credit with an interest rate of LIBOR plus 0.5 percentage points which came to about 2.5 percent per annum. Repayment was to start five years later and to be spread over 20 years.
"This is a highly concessional rate when Lanka is borrowing at 6 to 7 percent interest from other sources," Gupta pointed out, New Indian Express reports.
Latest Headlines in Sri Lanka