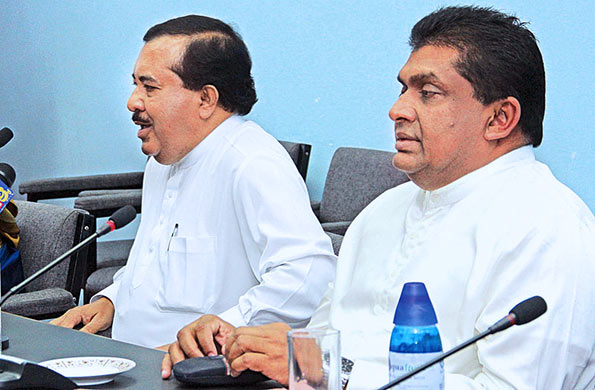 Former President Mahinda Rajapaksa had never said that he would leave the SLFP and form a separate political party. He said that a political party may be formed,but never did he say he will lead it, Lands State Minister
T.B. Ekanayake said. Addressing a press conference at the Government Information Department Auditorium, Colombo yesterday, Ekanayake said that the former President will never work to strengthen another political party, except the SLFP, as he is a well established and strong leader in the SLFP.
"History has shown us that new political parties in Sri Lanka had a short life span. The best example is the political party which had the 'Eagle' as its symbol .
State Minister Ekanayake said the current President and the SLFP Chairman Maithripala Sirisena came up the party ranks with the consent of all SLFPers and did not grab power by force," he said.
"Now, the majority of the SLFP MPs in Parliament work with the Government with the President's consent. We were able to amend 16 proposals in the 2016 budget and present nine important proposals for the new Constitution. Late Prime Minister Sirimavo Bandaranaike did not give up when the SLFP had problems in the past. The SLFP will march forward unitedly with President Maithripala Sirisena and former Presidents Chandrika Banadaranaike Kumaratunga and Mahinda Rajapaksa," the State Minister said.
Water Supply State Minister Dr. Sudarshini Fernandopulle said that this is the first time in history that the two main political parties are working together for the betterment of the country. Whenever the SLFP was united, it won elections and whenever it faced elections without unity, it got defeated. It was the same situation with the UNP when one examines past elections.
"We request all SLFP Leaders to be united to ensure the party's victory at the upcoming Local Government Polls. The SLFP has the services of two former Presidents, while the UNP does not boast of such assets," she said.
"Late Prime Minister S.W.R.D. Bandaranaike opened the doors of the SLFP to the common man and Prime Minister Sirimavo Bandaranaike strengthened the party. Former President Chandrika Bandaranaike Kumaratunga led the party to victory after 17 years in 1994 and Mahinda Rajapaksa won the 30 year war against terrorism. My late husband Jeyaraj Fernandopulle was killed during the terrorist war, State Minister Fernandopulle said.
(Source: Daily News – By Nadira Gunatilleke)