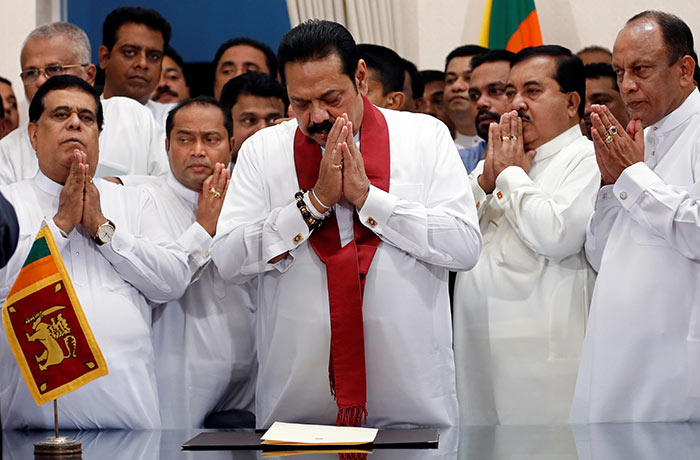 India, caught flatfooted by the appointment of Mahinda Rajapaksa as Sri Lanka's premier, has opened urgent diplomatic and political contacts with the strongman who drew close to China during his previous tenure as president, officials said.
The tear-shaped island, located off the southern tip of India, has become an arena of tussle between New Delhi and Beijing, which has built ports, power stations and highways as part of its Belt and Road Initiative of trade and transport links across Asia.
Rajapaksa had opened up Sri Lanka's main port to Chinese naval submarines when he was president, which stoked anger in India. His return to power in a surprise move by current President Maithripala Sirisena has drawn concern in New Delhi that China would tighten its grip on the island that lies along busy shipping lanes.
"It is advantage China at the moment," said Srikanth Kondappali, a specialist on India-China ties at New Delhi's Jawaharlal Nehru University who closely tracks the regional rivalry between the Asian giants.
He said Beijing had invested in Rajapaksa and in his political constituency of Hambantota in the south of Sri Lanka where it has built a $1.5 billion deep water port, an airport and also planned an industrial zone.
China's ambassador to Sri Lanka, Cheng Xueyuan, was among the first diplomats to meet Rajapaksa soon after he was sworn in as prime minister and he presented a congratulatory message from Chinese Prime Minister Li Keqiang.
Sirisena sacked Prime Minister Ranil Wickremesinghe on Friday and named Rajapaksa to replace him, breaking up a fragile coalition governing the island.
Wickremesinghe, who was seen as pro-India, said his sacking was illegal and he has maintained that he is still prime minister and had majority support in parliament.
Sri Lanka is one of a chain of countries where the India-China rivalry is playing out, stretching from Bangladesh, Nepal to the Maldives, where a pro-China leader was voted out in a surprise election result last month that was welcomed by India, the United States and the European Union.
Indian diplomats were in contact with Rajapaksa's camp, officials in New Delhi said, adding they were ready to do business with the new leader so long as his appointment was in line with the country's constitution.
"India will continue to extend our developmental assistance to the people of Sri Lanka," an Indian foreign ministry spokesman said on Monday.
Separately, leaders of the Rashtriya Swayamsevak Sangh, the ideological parent of Prime Minister Narendra Modi's governing Hindu nationalist-led alliance, have reached out to Rajapaksa to promote ties, party sources said.
PREDATORY
Seshadri Chari, an RSS leader involved in the track two diplomacy, said he was confident New Delhi and Colombo will work for better relations under the new leadership in Sri Lanka.
"In the changed geo-political realities, we have to be practical and pragmatic to protect our national self-interest and do better business," he said. The RSS wields influence in the Modi administration and has acted as an unofficial intermediary with some neighboring countries.
China has in recent years faced criticism that many of its investments in Sri Lanka, the Maldives and other countries run the risk of driving smaller nations into debt and potentially impinge on their sovereignty.
"We are seeing an international pushback against China's predatory practices. It can only intensify and in that backdrop it's hard to see Sri Lanka doling out more projects even under Rajapaksa," said an Indian government source.
China's Foreign Ministry spokesman Lu Kang said Beijing believes the people and government of Sri Lanka have the wisdom to "appropriately handle" the situation, and China hopes all sides can resolve differences via dialogue, to protect the country's stability.
Harinda Vidanage, director of the Bandaranaike Centre for International Studies, a thinktank in Colombo, said Sri Lanka had become a greater strategic prize after the pro-China president of the Maldives, Abdulla Yameen, lost the election.
"For China, both Sri Lanka and Maldives were very important in their effort to gain a foothold in the Indian Ocean. China to certain extent lost the Maldivian connection when Yameen lost the elections," he said.
Shailesh Kumar, Asia director at the Eurasia group, said the changes in Sri Lanka would benefit China.
"While Beijing lost a pro-Chinese government earlier this month in the Maldives, it will make up ground in South Asia with the change of guard in Sri Lanka," he said, adding that it came as Sri Lanka's economy was in financial difficulties.
"The decision to bring Rajapaksa back into the mainstream is likely intended to open the flow of Chinese funds, given the close relationship he cultivated with the Chinese leadership."
(Reuters)