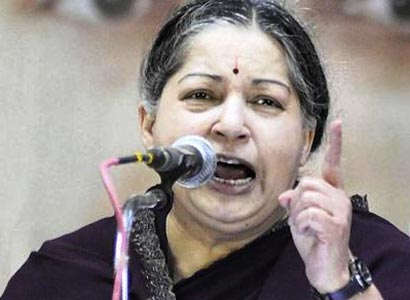 The long-standing fishermen issue with Sri Lanka came to a head on Tuesday with chief minister J Jayalalithaa stating that India should not recognise the International Maritime Boundary Line (IMBL) with the island nation as a settled question, as the constitutionality of the 1974 and 1976 agreements had been challenged.
In a letter to Prime Minister Narendra Modi, in which she sought his help for the release of a fresh batch of TN fishermen by the Sri Lankan navy, Jayalalithaa said, "I have pointed out in my previous letters, a permanent solution to the fishermen issue lies only in retrieval of the Katchatheevu island, to which India has a strong legal and historical claim."
The unconstitutional Indo-Sri Lankan Agreements of 1974 and 1976 should be nullified and the traditional rights of Tamil Nadu fishermen to fish in the Palk Bay should be restored, Jayalalithaa said. "The Union government should not treat the IMBL with Sri Lanka as a settled question as the constitutionality of the 1974 and 1976 agreements have been challenged on extremely valid and legal grounds by me in my personal capacity and also by the Government of Tamil Nadu in the Supreme Court of India," the chief minister said.
In all, 64 Indian fishermen from TN are in Sri Lankan custody. In the latest incident, 11 fishermen who set out to fish from Jegadhapattinam and Kottaipattinam fishing bases in Pudukkottai district were apprehended and were taken to Kankesanthurai in Sri Lanka.
On Thursday, seven fishermen from Nagapattinam fishing base were apprehended off the east coast of Sri Lanka, while 46 other fishermen were arrested the previous day.
Meanwhile, DMK chief M Karunanidhi, in a statement on Tuesday, said PM Narendra Modi should hold talks with the Lankan government to resolve the fishermen issue permanently.
Jayalalithaa said the issue required a concerted and sustained diplomatic effort to ensure that a permanent solution was delivered. "Until such time, the Union government must impress upon the Sri Lankan government to abstain from attacks on and abduction of our innocent fishermen on the high seas in the Palk Bay. Further, the joint mechanisms which are designed to ensure the speedy release of apprehended fishermen should be effectively activated," she said, Times of India reports.