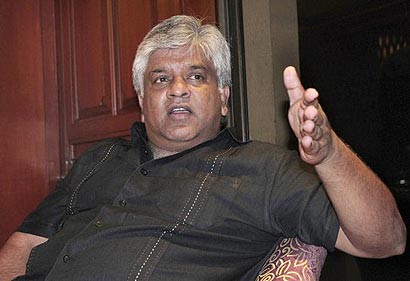 Following India's embarrassing 4-0 rout at the hands of England on Monday at The Oval, former Sri Lanka captain Arjuna Ranatunga has urged the Board of Control for Cricket in India to stop degrading Test cricket.
After winning their first World Cup this year since 1983, all of India's leading cricketers went straight to play the IPL tournament and then several of their leading cricketers opted to miss the West Indies tour that followed soon after. Some Indian cricketers even delayed surgery after the World Cup, not wanting to miss the cash rich IPL and after arriving in England half fit, broke down halfway through the tour.
Fast bowler Zaheer Khan had to limp off from the first Test at Lord's while other players such as Virender Sehwag, Harbhajan Singh, Yuvraj Singh, Gautam Gambhir and Praveen Kumar were hit by injuries.
So pathetic was India's performances that they lost the third and fourth Tests by an innings and 242 runs and by an innings and eight runs respectively. Not that they were any better in the first two Tests having lost them by 196 and 319 runs respectively.
"It's hard to believe that such a talented side failed to compete, isn't it," Ranatunga queried. "It all comes down to preparation. When you are world's number one, you should have pride to protect that number one tag and you should do all within your reach to sustain that. India's preparation ahead of the tour suggested that they weren't interested anymore. They seem to have got carried away with their IPL. It seems like they don't need outside influences to harm Indian cricket; the BCCI is doing it expertly," Ranatunga told The Island.
If several Indian players missing the Test series in West Indies wasn't bad enough, India were still happy to go into the Test series, where the number rank was at stake, with just one warm-up game in England.
"Rahul Dravid was outstanding during the Test series and the reason was that he was well prepared. The same thing happened when Sri Lanka toured England. Prasanna Jayawardene didn't play the IPL, he prepared for the Test series, played both warm-up games in England and was the Man of the Series. The same goes with guys like Tharanga Paranavithana, who I thought did fairly well in England opening the batting.
"For a batsman of the quality of Kumar Sangakkara, it took nearly a month to adjust to conditions before he scored a hundred on that tour. A player like Mahela Jayawardene with such quality couldn't score a hundred in the Tests. To succeed in England, preparation is extremely vital and to my surprise India ignored it," Ranatunga added.
"India is extremely vital to sustain Test cricket. It is fine for players to earn money through the IPL, but players should know their priorities. It is when you lose your priorities that wheels start coming off. The Sri Lankan team going to England in four different batches for a Test series was simply disgusting and it is one of the most disgraceful things I have seen in the history of our cricket. All this, thanks to the IPL!," Ranatunga added.
When Ranatunga was head of Sri Lanka Cricket in 2008, a request by England to fill in the void created by Zimbabwe to play a two-match Test series was turned down by the players as it was clashing with the IPL. Sadly, it was the very players Ranatunga had nurtured as Sri Lanka's captain who teamed up with a player agent and a minister to carry out an ugly revolt against him.
It is even suggested that Ranatunga's term as the head of the Cricket Interim Committee was put to an end on a request by some officials of the BCCI as he was constantly crossing the path of IPL.
Courtesy: The Island