India to help rebuild 79 schools in North Sri Lanka
Posted by Editor on October 10, 2011 - 4:20 pm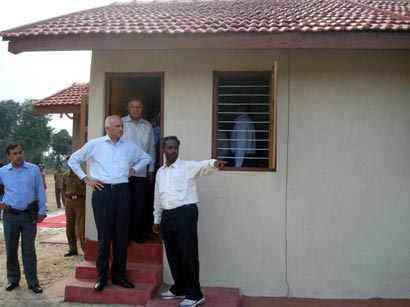 India will help in re-building 79 schools in the war-affected Northern Province of Sri Lanka at a cost of LKR 160 million, Foreign Secretary Ranjan Mathai said here on Monday.
Interacting with the Indian press stationed in Colombo at the conclusion of his three day familiarisation visit to the country, he said that these schools are located in Vavuniya, Mullaithivu and Kilinochchi.
India will also take up work on restoration of the Tirukoteeswaram Temple in Mannar, and has also offered help in restoration of another ancient temple near Sampur.
Mr. Mathai met Sri Lankan President Mahinda Rajapaksa on Monday morning, listened to Sri Lankan concerns, and discussed a range of issues. This included the question of a political solution to the Tamils. He said that the Sri Lankan government was planning to hold elections to the northern provincial councils soon.
On the question of fishermen from Tamil Nadu being attacked, he said there was a need to maintain peaceful atmosphere and explore ways of resolving the issue. Part of this would also involve fishermen from both sides holding regular meetings.
Asked for his comments on the Indian Housing project, which he visited on Sunday, he agreed that the pace of progress on the project was slow. The first houses will be handed over to beneficiaries in the next few months.
Source: The Hindu
Latest Headlines in Sri Lanka