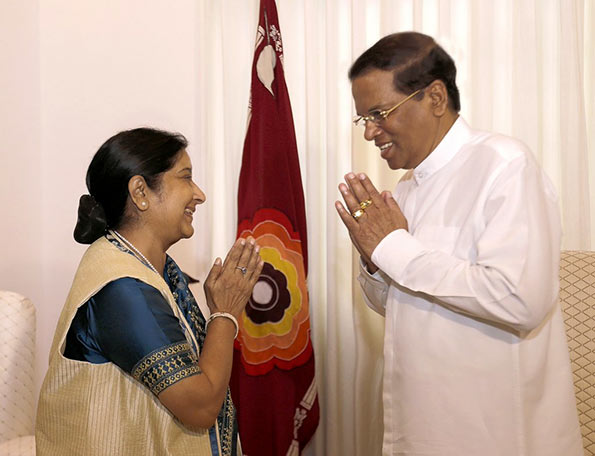 Indian Foreign Minister Mrs. Sushma Swaraj says the government of India solidly thanks Sri Lanka for its policies behind the reconciliation and the development.
She says India admires the speech recently delivered by President Maithripala Sirisena in the Parliament, stating that he would take the country towards development while bringing about the peace and reconciliation among every community. "The Indian government will give its fullest support to implement those policies mentioned in that statement", she said.
Mrs. Swaraj who called on President Sirisena yesterday (Feb. 06) at the Official Residence of the President stated that the Indian Prime Minister Narendra Modi and the government of India are fully satisfied with the program of the new government of Sri Lanka.
President Sirisena, who commended the support provided to Sri Lanka by India thanked the Indian government for its comprehensive assistance extended for the reconciliation process and economic proposals especially in this critical moment.
"India has been a friend of Sri Lanka for a long time. That is why I selected India for the first state visit after my election as the President", said President Sirisena.
Responding to the President, the India Foreign Minister stated that India's policy is to keep close friendships with the neighboring countries. "The Indian government gives priority for Sri Lanka on this regard", she said.
The Indian Foreign Minister who expressed her satisfaction about the decisions taken regarding the delayed activities during last few years defined by the Indo – Lanka bilateral discussions, said it was able to come to a new agreement about the technical cooperation.
President Sirisena requested the assistance of India for the comprehensive program to be launched by the Sri Lankan government to improve the health and education of the people of the estates. Mrs. Swaraj then ensured the support to be granted for health and technology through the ITECH Agreement.
The President explained the Indian Foreign Minister about the government's policy on the establishing of reconciliation in the country, amendment of the constitution and the international relations of Sri Lanka.
Indian Foreign Secretary Dr. S. Jaishankar and the High Commissioner Y. K. Sinha also were present at this occasion.
(President's Media)