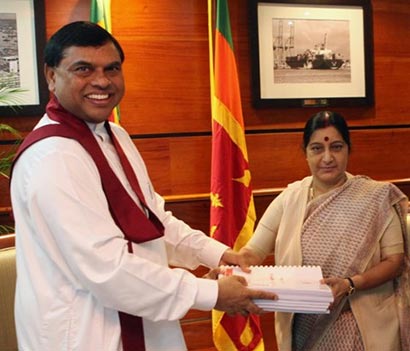 The visiting Indian All Party Parliamentary Delegation accompanied by the minister of Economic Development Basil Rajapaksa visited the Batticaloa district on Friday afternoon. The Leader of the delegation and the Opposition Leader of the Indian Parliament Ms Sushma Swaraj and the Minister Basil Rajapaksa declared open the newly facilitated Vantharumoolai Vocational Training Centre on the invitation of Minister of Youth Affairs and Vocational Training Dalles Alahapperuma.
Facilities at this Vocational Training Centre have been enhanced with the Indian financial grant assistance of US Dollars 2.86 million. The Indian assisted project in this vocational centre will help train youth in the fields of milling/grinding, CNC Machinist, ITC, Electronic mechanic, Industrial and domestic electrical, refrigeration and Air conditioning and Automobile mechanism. The government of India has procured all required machineries and other equipment needed for such training while providing training for trainers in India.
The Opposition leader of India Ms Sushma speaking on the occasion said that due to the enhanced friendship prevailed between the governments of India and Sri Lanka the Indian government was able to assist Sri Lanka in the development of the country by providing facilities in the most needed areas of activities such as housing, health care, education, vocational training and the rail transport.
Ms Sushma Swaraj further speaking said that in the context of globalization unemployment is a main problem faced by every governments in the world. The governments cannot give jobs to all. The job market in the private sector expands and vocational training is a pre requisite for such job opportunities in the private sector.
"We will go all the the way to provide skills to youth in Sri Lanka with the fullest co-operation of the Government of Sri Lanka" declared Ms Sushma in the presence of Minister of Economic Development who accompanied them in their tour of north and east.
She said India provides financial assistance to 52 projects in Sri Lanka implemented in the north and east and some are in the central hill areas. In the spirit of good relations between the two countries, India would expand their assistance to other needy areas too. She said on a request made by Minister Basil Rajapaksa as the Minister who coordinates fast tracking of development works in the north and the east, the government of India would extend its assistance to the highway and road sector development in the north east.
Source: Government News Portal