Plane crashes in Pakistan; 131 people onboard
Posted by Editor on April 20, 2012 - 9:33 pm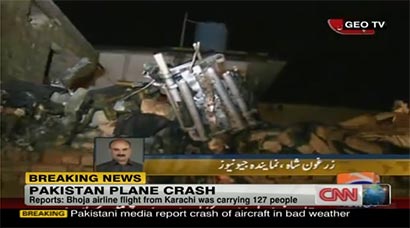 Islamabad, Pakistan (CNN) — A civilian airplane carrying 131 people crashed Friday in Rawalpindi just before it was to land at an airport in Islamabad, according to emergency officials.
The country's Civilian Aviation Authority confirmed the crash, and blamed it on poor weather.
The crash occurred near the Chaklala airbase, which is used by the Pakistani Air Force and is adjacent to the Benazir Bhutto International Airport in Islamabad.
Debris was scattered across the crash site as workers sifted through the wreckage in an area that is considered a heavily populated region.
The Bhoja Airline Boeing 737 was flying from the seaport city of Karachi and crashed just before touching down, Pakistan's GEO-TV news channel reported.
The crash site was about five aeronautical miles from the airport in Islamabad, authorities told CNN. The flight had lasted roughly three and half hours, the authorities said.
The weather conditions in the area included thunderstorms and limited visibility, according to CNN meteorologist Mari Ramos.
In 2010, 152 people were killed when a Pakistani passenger plane crashed on the outskirts of Islamabad, Pakistan's capital.
That plane was also was coming from Karachi when it crashed in a hillside while trying to land, official said at the time.
The first known commercial passenger airplane crash occurred in Pakistan in 1953 when a Canadian Pacific DH-106 Comet crashed shortly after takeoff from Karachi. That incident killed 11 people onboard.
CNN
Latest Headlines in Sri Lanka