Leader of the Indian delegation Sushma Swaraj calls on President Rajapaksa
Posted by Editor on April 21, 2012 - 12:31 am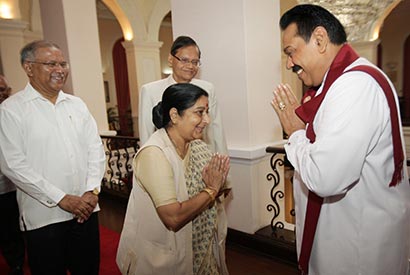 Onlanka News – By Janaka Alahapperuma
Pix by Sudath Silva
The visiting Indian parliamentary delegation to Sri Lanka headed by the Leader of the Opposition in Lok Sabha, Sushma Swaraj called on President Mahinda Rajapaksa at the President's House (Janadhipathi Mandiraya) in Colombo this morning on Friday 20 April.
The Bharathiya Janatha Party (BJP) leader and the President discussed the devolution of powers to the Northern and Eastern provinces and Mrs. Swaraj also conveyed the concerns of the major Tamil party, Tamil National Alliance (TNA) over a political solution to the current issue.
First Lady Shiranthi Wickremasinghe Rajapaksa, Minister of External Affairs Prof. G. L. Peiris, Secretary to the President Lalith Weeratunga, Indian High Commissioner in Sri Lanka Ashok K. Kantha and Bansuri Swaraj, daughter of Mrs. Swaraj also participated in the occasion.
The Indian delegation arrived the country to further strengthen mutual cooperation between Sri Lanka and India. In addition to that the visit aimed at finding out the prevailing situation in the island especially in north and east where large number of Tamil people affected due to the terrorism. They engaged in an observation visit to war tone areas in Mullativu, Vavuniya, Jaffna districts and also Nuwara Eliya. The visiting Indian delegation met government officials, local politicians, community leaders, general public in those areas and also talked to IDPs and recently resettled people and donated aid for them. They consulted the war affected people by themselves and obtained their independent views without any mediation on the part of the government.
The Indian parliamentary team is highly impressed with the rehabilitation, reconstruction, reconciliation, de-mining and development work carried out by the government in the North and East, within a very short period of time, after the completion of the humanitarian operation with lots of difficulties and lack of resources.
However the delegation has reaffirmed India's commitment to Sri Lanka's sovereignty and territorial integrity and called for progress in the dialogue for a political settlement to find a lasting solution only within a united Sri Lanka. The visit has immensely helped to correct the wrong picture that led to adverse Tamil Nadu opinion on the North and East which had an impact on the Geneva resolution.
Meanwhile, Sri Lankan officials said the government wishes to thank the Indian delegation for visiting Sri Lanka, and seeing the real situation for themselves rather believe pro Tamil Tiger propaganda in Tamil Nadu.
The delegation also met opposition leader Ranil Wickremasinghe and UNP top hierarchy and held talks. Mr. Ranil Wickremasinghe said all should unite to find a lasting solution for the national problem.
The Indian delegation is scheduled to leave the country tomorrow.
Pictures are seen here leader of the Opposition in Indian Lok Sabha Sushma Swaraj, being warmly received by President Rajapaksa.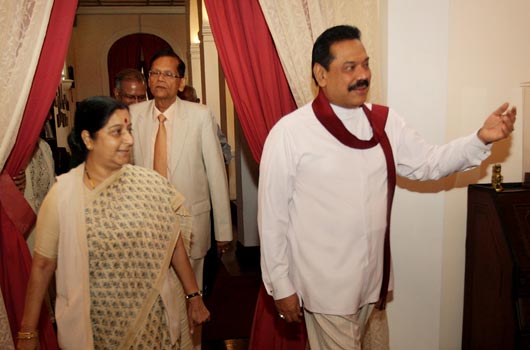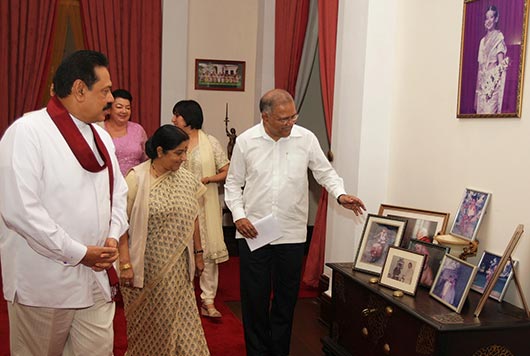 Latest Headlines in Sri Lanka