Farhath Haadhy – Queen of Mehendi in Sri Lanka
Posted by Editor on April 21, 2012 - 8:20 am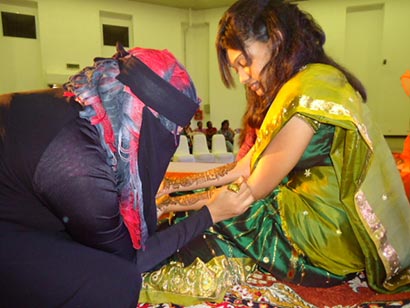 — By Dr.Telli.C.Rajaratnam —
Winner of the All Island Mehndi competition –Bridal & Beyond held at BMICH
Farhath Haadhy is a household name in Sri Lanka amongst Buddhist, Hindu, Indian, Muslim brides and girls of all ages.
Farhath Haadhy clad in "abaya"  her entire face except for the eyes are covered according to traditional Islamic customs is the spouse of a Medical Practitioner Dr.Sheriff and the mother of two children. She is a Professional mehndi artist and travels widely with her spouse who encourages her on her assignments from the Middle East  to Bangladesh, Pakistan, India, Singapore, Malaysia, Indonesia and the West on  special assignments. She is professionally trained and qualified in India. Her appointments are tight scheduled but her love for the art accommodates her clientele and she hardly has time to rest. In spite of her assistants who are professionally trained most VVIP's insist on her personal attention and expertise
I learnt from her albums that amongst her clientele are VVIPS , Princesses, First Ladies from all parts of the globe. She instructed me modestly not to reveal the names of the clients as it was her professional etiquette not to divulge the names of her clientele  to respect their privacy. Leading Bridal Beauticians seek her professional assistance for Mehndi.
On the world wide website Farhath's links are as follows:
What is Mehndi?

Mehndi is a ceremonial art form which originated in ancient India. Muslims also use it as an up coming of age. Intricate patterns of mehndi are typically applied to brides before wedding ceremonies. The bridegroom is also painted in some parts of India. In Rajasthan, the grooms are given designs that are often as elaborate as those for brides. In Assam, apart from marriage, it is broadly used by unmarried women during Rongali bihu, but there are no restrictions on its use by married women.
Henna is also common in some gulf states, specially Yemen, where the night before the wedding night is dedicated to decorating the bride with henna, and called "Henna night".
Muslims also use henna as a dye for their hair and for the beards of males–following the tradition of their prophet Muhammad, who used to dye his beard with henna. It's considered a "sunnah" and akin to something fortunate/good. In one narration by him, he encouraged Muslim women to dye their nails with henna so their hands could be distinguished from the hands of a male. In the Middle East and Africa, it is common for women to apply henna to their fingernails and toenails and to their hands.
In Africa, henna was used as part of spiritual practices by tribes to decorate their bodies and for protective purposes when certain symbols/designs were incorporated.
In Somalia , henna is applied to women and girls during Eid, weddings, and visits to important people or relatives. In most countries, henna is seen as a way for women to beautify themselves (as jewels), so is well decorated and applied with good care.
Application of the Henna paste
Henna paste is usually applied on the skin using a plastic cone or a paint brush, but sometimes a small metal-tipped jacquard bottle used for silk painting (a jac bottle) is employed. The painted area is then wrapped with tissue, plastic, or medical tape to lock in body heat, creating a more intense colour on the skin. The wrap is worn three to six hours, or sometimes overnight and then removed. When first removed, the henna design is pale to dark orange in colour and gradually darkens through oxidation, over the course of 24 to 72 hours. The final color is reddish brown and can last anywhere from one to three weeks depending on the quality and type of henna paste applied, as well as where it was applied on the body (thicker skin stains darker and longer than thin skin).
Weddings in India can often be long, ritualistic, and elaborate affairs with many pre-wedding, wedding and post wedding ceremonies. The occasion of Mehndi ceremony is often one of the most important pre-wedding rituals especially for the bride. It is a fun filled ritual, which is celebrated mainly by the bride's family. Different regions of the country celebrate the ritual in a different way according to their own marriage customs, rituals, and culture. Mehndi ceremonies take place outside India amongst the Indian community and places like Birmingham in the UK are such known hotspots for lavish Mehndi celebrations.
The ceremony is mainly held at the bride's house or at a banquet hall on the eve of the marriage ceremony or few days before the marriage. Generally the bride and groom attend the event together and on the occasion a professional henna artist or a relative applies mehndi to the bride's hands and feet. The designs are very intricate. Often hidden within the mehndi pattern the name or initials of the groom are applied. The event generally has a celebratory festival feel to it with the women dancing and singing traditional songs and the girls wearing vivid colors such as hot pink and yellow, often if the bride to be wishes to tease her future groom she will make him wear purple. The groom usually wears jutti instead of western footwear.
Vedic ritual books. Haldi(Staining oneself with turmeric paste) as well as mehndi are important Vedic customs as a symbolic representation of the Outer and the Inner Sun. Vedic customs are meant to awaken the "inner light" and so the gold of the inner Sun has an important symbolic function!
Traditional mehndi designs draw the sun on the palm, which in this context represents the mind.Mehndi decorations became fashionable in the West in the late 1990s, where they are sometimes called henna tattoos. Henna is typically applied during special occasions like weddings and Hindu festivals like Karva Chauth, Diwali, Bhaidooj and Teej. In some Hindu festivals, every woman tries to have Henna done on her hands and feet. It is usually drawn on the palms and feet, where the color will be darkest because the skin contains higher levels of keratin which binds temporarily to lawsone, the colorant of henna. Henna was originally used as a form of decoration mainly for brides.
In the modern age, usually people buy readymade Henna cones, which are ready to use and make painting easy. However, in rural areas in India, women grind fresh henna leaves on sil (grinding stone) with added oil, which though not as refined as professionally prepared henna cones, brings much darker colors.
Academy of Mehndi Art
Farhath would within the next few weeks establish an Academy of Mehndi Art affiliated to the Ministry of Vocational and Tertiary Education to educate and train professionals in this form of ancient art. Accreditations would also be obtained from Universities overseas where she has visited, demonstrated and had discussions.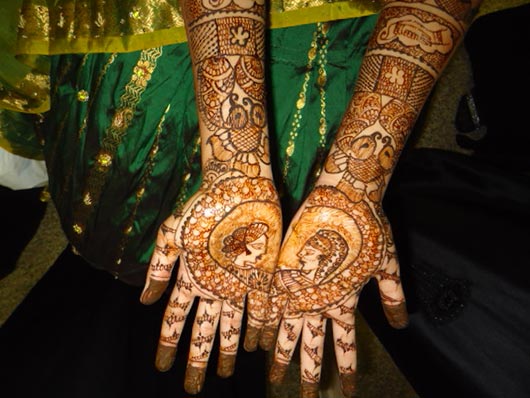 Latest Headlines in Sri Lanka