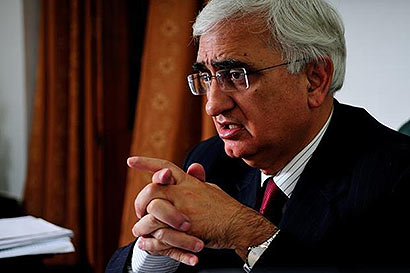 Submitted by Walter Jayawardhana
NEW DELHI: External affairs minister Salman Khurshid on Tuesday said in the Rajya Sabha that India would not intervene directly in Sri Lanka's sovereign affairs even though MPs belonging AIADMK, DMK and CPI demanded that the government support the hard line taken by the US against the island country for the alleged human rights violations of ethnic Tamils.
Stating that Sri Lanka was a friend and not an enemy country amid protests from members, including AIADMK's V Maitreyan, Khurshid said, "The US has taken its independent position. We have taken our position based on the sense of the House."
Khurshid emphasized, "We may have differences, pain, disappointment, anger and anguish but we should not be saying that Sri Lanka is an enemy country. It is not."
He pointed out, "Our initiative is to find a resolution. We want a sustainable settlement of issues in Sri Lanka… We have all suffered because of the strife in Sri Lanka."
Reacting to fresh allegations of rights violation against Tamils in Sri Lanka, Khurshid said there should be accountability, although he refused to spell out what stand India will take against Sri Lanka in meeting of the UN Human Rights Council next month.
Responding to demands by members that India should vote with the US resolution in the UN against Sri Lanka, Khurshid said, "We can't foreclose what point we make in the UN. We will make position keeping this debate in mind. After taking a position we will disclose it here…"
UPA ally DMK said it has lost faith in the government on the issue. DMK MPs staged a walkout along with AIADMK and Left. They were not satisfied with Khurshid's reply to the discussion on the plight of Tamils in Sri Lanka.
"We are totally and utterly committed to the outcome that must ensure equality, dignity, justice for the Tamil people of Sri Lanka," Khurshid said.
CPI's D Raja wanted a categorical assurance from Khurshid that Sri Lanka will not ignore the 13th amendment. "I cannot give assurance about what another government will do," said Khurshid.
Seeking to allay apprehensions that Lankan government was trying to avoid implementing the 13th amendment of its Constitution related to devolution of powers to Tamils, Khurshid said India has been assured the 13th amendment is the foundation stone of the resolution of the Sri Lankan problem.
"We have been continuously and repeatedly told that there is no reason to believe that the 13th amendment will be diluted…Within the range of diplomacy and foreign relation affairs, we have been assured time and again that the 13th amendment is the foundation stone for Sri Lanka," he said but acknowledged there are different views on it.
"Government is of the view that the end of the conflict in Sri Lanka provided a unique opportunity to pursue a lasting political settlement within the framework of a united Sri Lanka, acceptable to all communities in Sri Lanka including Tamils," added Khurshid. (Courtesy: India Times)