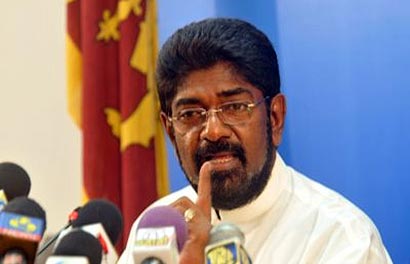 The Government today stated that it could not take over the responsibility of the issuance of the Halal Certification, Media Minister Keheliya Rambukwella said today.
The All Ceylon Jamiyyathul Ulama (ACJU) on February 26 requested the government to take over the issuing and administration of Halal certification in Sri Lanka.
The All Ceylon Jamiyyathul Ulama, the Muslim scholar council asked the government to take an initiative to end the row after Bodu Bala Sena (BBS), or Buddhist Force, staged a rally and issued an ultimatum that all halal certified goods must be taken off the market shelves by end of March.
"We suggest that government take over the process which should be acceptable to all stake holders", Rizwie Mufthi of the ACJU, Sri Lanka's main body of Islamic clergy told reporters on February 26.
He said the country could model the system along what is being practised in Thailand and Singapore where the government is responsible for Halal certification.
Last week, they said they advised the trade to limit the sale of Halal certified goods only to Muslims.
The decision was aimed at promoting peaceful co-existence and harmony with the majority Sinhalese who constitute 74 per cent of the island's 20 million population.
The BSS had earlier issued an ultimatum that all Halal certified goods must be taken off the market shelves by the end of March and the practice must be done away with.
The BSS said the non Muslims, mostly Buddhist were being forced to consume items certified Halal, which is an Islamic religious ritual.
The BSS also accused ACJU of making money in the practice of issuing Halal certificates.
President Mahinda Rajapaksa appointed a ministerial committee to look into the growing religious tensions.
(Courtesy: Ada Derana)