INDIAN COMMERCE MINISTERS SAYS MANUFACTURE OF AUTO COMPONENTS AND DRUGS WILL START IN SRI LANKA SOON
Posted by Editor on August 3, 2012 - 4:40 pm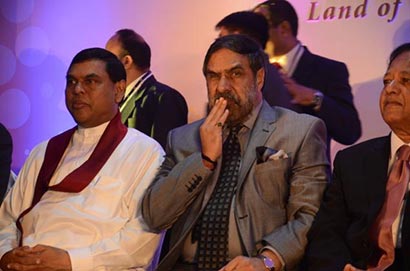 Onlanka News – by Walter Jayawardhana
Indian Commerce Minister Anand Sharma was quoted having said that his country would help establish a Special Economic Zone (SEZ) to manufacture auto components in Trincomalee soon to cater to auto manufacturing hubs in India.
The Hindu which reported the decision of both governments of India and Sri Lanka which he said was reached last Friday morning also added that at the moment the exact amount of investment cannot be stipulated since the decision was reached hours ago.
The SEZ will cater to auto manufacturing hubs in India, he said and added that India was keen to expand cooperation in these and related sectors.
The Indian Joint Task Force on the SEZ will be announced by Friday evening, he said, after inaugurating the India Show in Colombo on Friday. The JTF will submit its report within 90 days, he added.
The Hindu also reported: "India and Sri Lanka will work towards not only enhancing economic co-operation by doubling bilateral trade to $9 billion by 2017, but also for the early conclusion of the Comprehensive Economic Partnership Agreement (CEPA).
Three-day visit
"Commerce and Industry Minister Anand Sharma will be in Colombo for three days from August 3. He will be meeting his counterpart Rishad Bathiudeen to discuss ways to widen the free trade agreement in goods and expanding it to include services and investments. He would also be attending the India Show.
"Mr. Sharma is also scheduled to meet Sri Lankan President Mahinda Rajapaksa. "Mr. Sharma's visit would set the tone for doubling the bilateral trade to $9 billion by 2017 and also move forward the dialogue process for early conclusion of CEPA," an official statement said.
"At present, bilateral trade stands at $4.5 billion. CEPA is aimed at liberalising trade in services and investments by updating existing agreements on investment protection and avoidance of double taxation. Mr. Sharma will also discuss the scope of strengthening the economic and trade cooperation between the two countries, it said.
"Over 108 Indian companies would showcase a wide range of products and services, including automobile, engineering, infrastructure, tourism, food processing, ICT, financial services, pharmaceuticals and education.
"The minister also announced the setting up of a pharmaceutical manufacturing hub in Sri Lanka. He said that within 30 days a team from the apex body governing pharma issues in India will visit Sri Lanka to work out the details.
"Mr. Sharma said that India and Sri Lanka will aim to double the bilateral trade by 2015. This year, India-Sri Lanka trade crossed the USD 5 billion mark.
"The signing of CEPA will make the current economic engagement more comprehensive by bringing more investment and services into Sri Lanka. Mr. Sharma said that the two Commerce Secretaries will resume dialogue on CEPA, and resolve all related issued. He asserted that Sri Lanka will be given preferential access to the "big Indian market."
Latest Headlines in Sri Lanka