Ranil's official vehicle breaks down
Posted by Editor on August 3, 2012 - 3:40 pm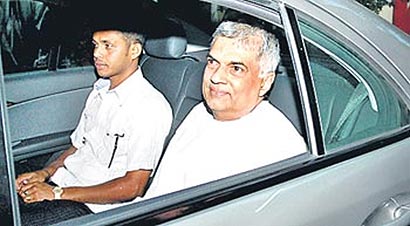 UNP leader Ranil Wickremesinghe had a nasty experience when his official vehicle broke down twice last Sunday due to the use of low quality diesel fuel.
The Leader of the Opposition had this problem when travelling from Polonnaruwa to Ampara in the official vehicle assigned to him by the government.
As a result of the engine failure the vehicle could not be driven any further. Guided by the fault indicating bulb on the vehicle, the diesel filter had been replaced and the balance diesel in the tank drained out and replaced with super diesel. This had corrected the fault.
Mr. Wickremesinghe commenting on this unpleasant experience said that, on an earlier occasion, he had filled the tank of his private vehicle with inferior petrol imported by the Rajapakse government and the vehicle had been damaged.. Now this inferior diesel fuel had damaged his official vehicle. He said this showed that the government was not only dumping garbage on the people but also on his vehicles.
Courtesy: DM Online
Latest Headlines in Sri Lanka