UNP and JVP worked for the downfall of agriculture – Maithripala
Posted by Editor on August 3, 2012 - 2:15 pm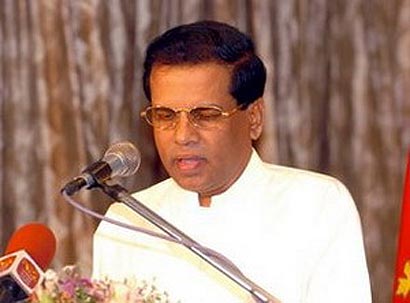 The General Secretary of the Sri Lanka Freedom Party and the Minister of Health Mr. Maithripala Sirisena challenged Opposition Leader Ranil Wickremesinghe to point out any positive changes, if there were any, made to develop agriculture during his regime as the Prime Minister or during the period of the UNP government, in which he was a minister, without shedding crocodile tears for the farmer community.
Speaking at a press conference at the Mahaweli Centre yesterday, Minister Sirisena said the UNP and the JVP which worked for the downfall of agriculture and the farmer community were shedding crocodile tears today.  He said the JVP set fire to 240 agrarian service and paddy storage centres during the late 1988/1989 horrendous period in which they destroyed thousands of millions worth state properties including railway carriages and SLTB Buses.
He said the JVP also killed farmers who did not obey their orders, especially those who were to vote for Mrs. Sirimavo Bandaranaike in the Presidential election, destroyed electricity supplies, roads and bridges disrupting farmers' livelihood.
Minister Sirisena said though D S Senanayake and Dudley Senanayake governments developed agriculture, the UNP governments which came into power after this, worked for the downfall of the agriculture sector under the open economic policy and made Sri Lanka dependent on foreign imports for everything other than the air we breathe in.
The Minister said the UNP closed the Paddy Marketing Board (PMB) and sold the assets. He said the PMB building in Polonnaruwa worth over Rs 50 million was sold at Rs 275,000 and used as the UNP District Office in the 1994 election. He also said the UNP also suspended Agro Promotion Services and its officers.
Speaking about the development of the irrigation sector, the Minister said under President Mahinda Rajapaksa's leadership the Kaluganga and Moragahakanda projects which will provide water facilities to irrigate several thousand acres of paddy land have almost been completed while measures have been taken to commence the Deduru Oya and Uma Oya projects soon. He said that these projects will address the Dry Zone farmers' water issue, not solved for 45 years.
Ministers Anura Priyadharshana Yapa and Reginald Cooray also addressed the Media Conference.
Source: Governmet News Portal
Latest Headlines in Sri Lanka