Indian MPs led by Sushma Swaraj on Sri Lanka visit
Posted by Editor on April 17, 2012 - 11:42 am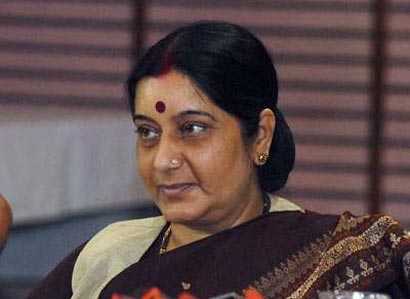 Onlanka News – By Walter Jayawardhana
A multi-party MPs delegation embarked on a six-day visit to Sri Lanka during which they will oversee developmental projects by India and handing over of houses in the areas worst affected by the decades-old civil war, reported the Times of India.
Once in Sri Lanka theywil press for political reforms that wouold benefit Tamils,the newspaper said.
"The delegation led by leader of opposition in Lok Sabha Sushma Swaraj left for Colombo this evening and will visit northern and eastern Sri Lanka, which bore the brunt of three decades of bloodshed, besides making a visit to central and southern parts of the island.
"The delegation, that has members from Congress, Bharatiya Janata Party,Communist Party Marxist,Socialist Party, Bharatitya Janata Dal and Janata Dal, would be in Sri Lanka for six days from today and will meet presidentMahinda Rajapaksa and other leaders to press for a political solution to the Tamil question.
"The MPs, five of whom are from Tamil Nadu where the Sri Lankan Tamils issue is emotive, will also hold talks with leaders of the Tamil National Alliance, which has emerged as a credible political force of the minority community, and the Sri Lankan Muslim Congressto get their views.
"Two major political parties in Tamil Nadu — AIADMK and DMK — pulled out of the visit at the last minute.
"During its visit to Mullaitivu, once the nerve-centre of LTTE's military operations, the delegation will hand over medical equipment to hospitals, newly-built houses to beneficiaries and distribute bicycles to needy Tamils.
"The primary focus of the delegation will, however, be in the areas recovering from thirty years of conflict in the North and East of Sri Lanka where development assistance projects for the resettlement and rehabilitation of IDPs and reconstruction of areas affected by the conflict are being undertaken by India," the ministry of external affairs said."
Latest Headlines in Sri Lanka