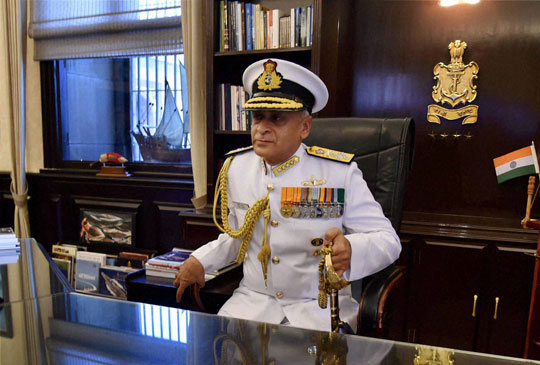 India Navy chief Admiral Sunil Lanba arrived in Colombo on a five-day bilateral visit aimed at consolidating and enhance the bilateral maritime security relations between India and Sri Lanka.
During his visit, he will hold bilateral discussions with President Maithripala Sirisena, Prime Minister Ranil Wickremesinghe and senior dignitaries including the Chief of Defence Staff and the three Service Chiefs, an official statement said.
The Admiral will also attend the 'Galle Dialogue' which is being held at Colombo. The Galle Dialogue is an annual conference hosted by Sri Lanka on the issues of Maritime Security and Cooperation between international navies.
Representatives from 39 countries and 13 international organisations are likely to participate in the event.
He would be delivering key-note address on 'India's perspective on the benefits of Strategic Maritime Partnerships', during the event.
There exists a robust Naval cooperation between India and Sri Lanka encompassing a wide span which includes operational interactions through bilateral exercises, coordinated patrolling along the common maritime border, training, port calls, capacity building and capacity augmentation initiatives, the statement said.
The Admiral will also lay a wreath at the Indian Peace Keeping Force memorial, which has been built by Sri Lanka to honour Indian Martyrs, during his visit.Lanba's visit also comes days after India and Sri Lanka held their fourth Annual Defence Dialogue (ADD) here on November 3.
Defence Secretary G Mohan Kumar and the Sri Lankan Defence Secretary Karunasena Hettiarachchi co-chaired the meeting along with their delegations, comprising officers from the Defence Ministries, Foreign Affairs Ministries and the Armed Forces of both the countries.
During the ADD, various ongoing defence cooperation initiatives were jointly reviewed and new avenues for cooperation identified. The regional security situation and issues of maritime security were also discussed at the meeting.
(News Nation)