Indian PM Narendra Modi to offer Sri Lanka, the Maldives, Mauritius and Seychelles help to counter China influence
Posted by Editor on March 6, 2015 - 7:54 am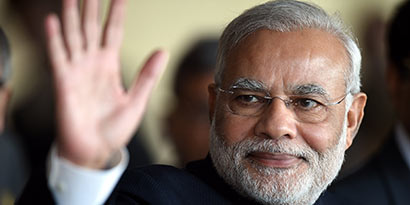 Indian Prime Minister Narendra Modi will offer island nations in the Indian Ocean a broad range of military and civilian assistance next week in a bid to wrest back some of the influence China has gained by spending billions of dollars in the region.
PM Modi will make the pledges during a visit to Sri Lanka, the Maldives, Mauritius and Seychelles after decades of neglect by successive governments. His trip to Sri Lanka will be the first in 28 years by an Indian prime minister.
China has built seaports, power plants and highways across the small island nations. Its navy has also made forays into the Indian Ocean, including when submarines docked last year in Sri Lanka.
Indian Government is hoping to tie the islands into a closer security embrace, Indian officials said.
"India has a role as a net security provider in the Indian Ocean region," said a defence official involved in preparations for PM Modi's trip, which begins on March 10. "We are providing patrol ships, surveillance radars and ocean mapping for the island states."
At the top of PM Modi's agenda is Sri Lanka, the tear-shaped island off the southern coast of India where a new government, concerned at Beijing's growing influence, is reviewing infrastructure contracts the previous administration awarded to China. It has also ruled out additional Chinese submarine visits in the near future.
PM Modi is expected to tighten defence and security cooperation and push for final approval for a 500 MW power plant to be built by National Thermal Power Corporation under a 2012 agreement in Trincomalee, a strategic port in eastern Sri Lanka, Indian officials said.
The two sides were also in talks to upgrade military training, a Sri Lankan government official said.
(India Times)
Latest Headlines in Sri Lanka