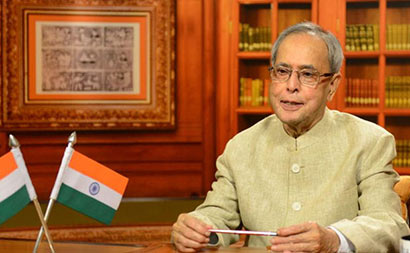 Indian President Pranab Mukherjee on Tuesday extended his wishes to Sri Lanka on the eve of the island nation's 67th Independence Day celebrations.
In a message to his Sri Lankan counterpart Maithripala Sirisena, President Mukherjee stated that the ties between the two nations cover 'all areas of contemporary significance', adding that the bonds between both countries will expand to mutual benefit.
"On behalf of the Government and the people of India and on my own behalf, it gives me great pleasure to extend to Your Excellency and to the people of the Democratic Socialist Republic of Sri Lanka warm greetings and felicitations on the occasion of the 67th Anniversary of your Independence," the President said.
"India and Sri Lanka are close neighbours with a long standing relationship of friendship and cooperation based on shared linguistic, religious and cultural traditions. These ties have matured over time to embrace all areas of contemporary significance. I am confident that our traditional bonds will expand and flourish to our mutual benefit in the years to come," he added.
Sri Lanka celebrates February 4 as its Independence Day to mark its internal political liberty from British rule on the corresponding day in 1948. (ANI)