INTERPOL has issued red warrant on Udayanga: Police
Posted by Editor on February 23, 2018 - 6:56 am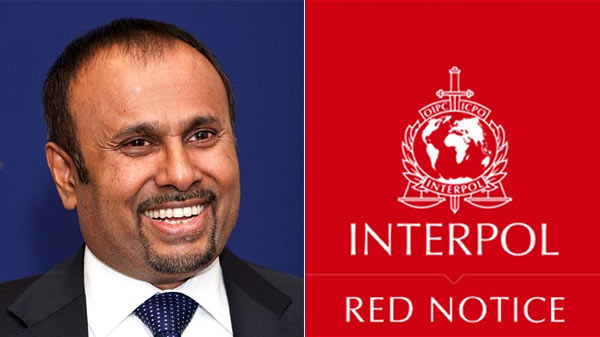 INTERPOL had issued a 'Red Warrant' on former Sri Lankan Envoy to Russia Udayanga Weeratunga, naming him as a fugitive wanted by the Sri Lankan authorities, Police Media Spokesman SP Ruwan Gunasekara announced.
Ex-diplomat Weeratunga was wanted in connection with certain discrepancies that had taken place in the acquisition of four MiG-27 fighter jets from the Ukrainian arms company 'Ukrinmash' in 2006 and financial misappropriation said to be taken place in overhauling four MiG fighter jets owned by the Air Force.
According to SP Gunasekara the Financial Crimes Investigation Division (FCID) had received a complaint on March 10, 2015 over the incident.
He said investigations had revealed that Mr. Weeratunga had interfered in the MiG deal and there had been suspicious deposits to his local bank accounts from foreign countries at this time.
In order to obtain a statement relating to the investigation from Mr. Weeratunga, the Fort Magistrate had issued summons on him to appear in Court on July 15, 2016, an order that he dis-obeyed.
SP Gunasekara explained that the Fort Magistrate had issued the open warrant for Mr. Weeratunga in October 20, 2016 for ignoring the court order and some USD 1.7 million amounts in his 16 bank accounts were ordered to be frozen.
Later, the Criminal Investigation Division (CID) sought INTERPOL assistance to arrest Mr. Weeratunge who was evading the courts by living overseas and the 'INTERPOL' issued a 'Blue notice' over the ex-diplomat.
SP Gunasekara said that Mr. Weeratunga's diplomatic service had ended on February 28, 2015 but he had not returned his diplomatic passport No D3643585 to the Foreign Ministry and instead he had obtained a passport bearing the
No N5400885 from the Immigration and Emigration Controller.
In October 4, 2016 Mr. Weeratunga had travelled to the United Arab Emirates and the Immigration and Emigration Controller had impounded both his passports following an order made by the Fort Magistrate on June 30, 2017.
Mr. Weeratunga was detained at the Dubai Airport on February 4 this year while in transit to the United States but was later released after being transferred to the Abu Dhabi authorities.
A seven member delegation was dispatched to bring back the ex-diplomat on February 7, based on the bilateral understanding and the diplomatic relations between the two countries, however they were made to return home emptyhanded on February 13.
A statement issued by Police Media Spokesman SP Ruwan Gunasekara yesterday said that Mr. Weeratunga had several opportunities to prove his innocence on the charges. However he was only attempting to create a false image over the country's judicial system among the people by issuing media statements.
He further said Mr. Weeratunga had never requested an opportunity to make a statement to investigation officers although he claims to have done so.
Therefore, SP Gunasekara said it had been observed that Mr. Weeratunga's claims were baseless and he was only evading the authorities without obeying the judiciary. "Mr. Weeratunga is a Sri Lankan citizen. Instead of attempting to prove his innocence using social media, Mr. Weeratunga can appear before a court of law and prove his innocence," SP Gunasekara added.
(Source: Daily Mirror – By Thilanka Kanakarathna)
Latest Headlines in Sri Lanka