'Involve TN to end poaching in Sri Lankan waters by fishermen' – Sampanthan
Posted by Editor on October 11, 2015 - 12:52 pm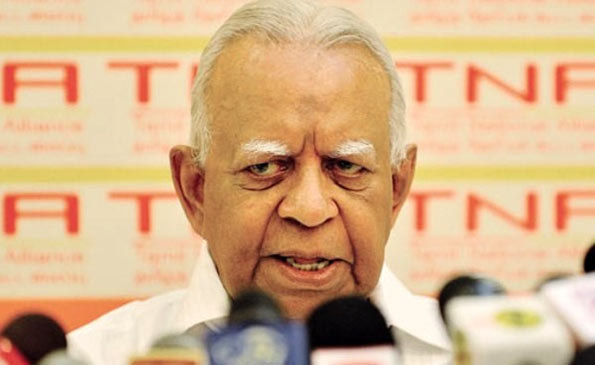 Leader of Opposition and Tamil National Alliance leader R. Sampanthan has called for the involvement of the Tamil Nadu government to settle the issue of alleged poaching by fishermen from India, especially Tamil Nadu, in the territorial waters of Sri Lanka.
He told Parliament on Friday that representatives of the Tamil Nadu government should be invited for talks between the governments of India and Sri Lanka. Besides, fishermen on either side could also form part of the discussions.
Calling for a comprehensive analysis of the problem, he said that the assistance of the Indian Navy and Indian Coast Guard should be used till the issue was resolved.
Moving an adjournment motion in the House on the issue, Vijitha Herath of the Janatha Vimukthi Peramuna suggested that action be taken against owners of boats that were used for the alleged poaching as those who were caught by the Sri Lankan authorities were working for the boat owners for livelihood. He also wanted the government to take action against the arrested persons under a specific law on fisheries instead of the Immigrants and Emigrants Act.
M.A. Sumanthiran, another member of the Tamil National Alliance, explained how trawling was damaging the eco-system. Vasudeva Nanayakkara of the United People's Freedom Alliance said the matter should be taken to the International Tribunal for the Law of the Sea. Namal Rajapaksa of the UPFA called for strengthening the Sri Lanka Navy as the problem would pose threat to national security of the country.
Dilip Wedaarachchi, State Minister of Fisheries and Aquatic Resources, who deputised for Fisheries Minister Mahinda Amaraweera, favoured a coordinated approach on the part of all for solving the issue.
On the Parliamentary debate, Anthonipillai Emilaspillai, president of the Jaffna District Fishermen Cooperative Societies Federation, commended the JVP for moving the motion.  Noor Mohamed Alam, president of the Mannar District Fishermen's Cooperative Society Union, said it was regrettable that the Northern Provincial Council did not adopt a resolution on the issue that affected the fishermen of the area even though it adopted motions on a number of other subjects.
TNA leader tells Parliament that Tamil Nadu government representatives should be invited for talks between the governments of India and Sri Lanka
(The Hindu)
Latest Headlines in Sri Lanka