Iranamadu reservoir vested in people by the President providing solutions for water issue in North
Posted by Editor on December 8, 2018 - 9:16 am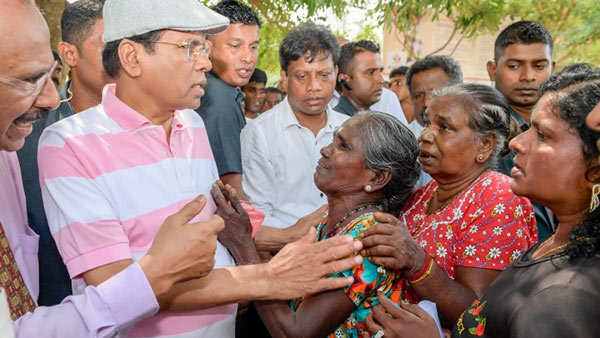 President Maithripala Sirisena vested the reconstructed Iranamadu reservoir in the people yesterday (07), fulfilling another aspiration of the President, as the leader of the State and the farming community of the country.
Under the complete guidance of the President, who has given prominence in his agenda to provide solutions for the water issue of the farmers of the country, the reconstruction works of the Iranamadu reservoir commenced in the year 2015, in parallel to the commencement of the works of Moragahakanda reservoir. It is significant that after the year 1975 the reconstruction works of the tank carried out for the first time at this time.
The Iranamadu tank covering an extent of 21,000 acres will sustain 9,180 farmer families, enabling them to cultivate their paddy lands during both seasons and obtain drinking water facilities. The reservoir has been renovated at a cost of nearly Rs. 2,000 million and the financial assistance was provided by the Ministry of Local Government and Provincial Councils and the Asian Development Bank.
Previously, the capacity of the reservoir was 131 million cubic meters. At the present, the capacity of the reservoir is 148 million cubic meters. The President's expect is to transport the redundant water for the utilization of people in Kilinochchi to Jaffna in the near future.
The reservoir was spillover for the first time after the reservoir was reconnected today and the President opened the sluice gates of the reservoir this morning.
The President said that he observes the release of the water from the Iranamadu reservoir as a great time to strengthen the reconciliation in the North. President Sirisena said that this will be a great strength to light up the lives of people in the North and to strengthen the national economy.
North Western Province Governor Reginald Cooray, Ministers Nimal Siripala De Silva, Maihnda Samarasighe, Sarath Amunugama, Angajan Ramanathan, and other ministers, and the engineers in charge of the project, government officers, heads of the army, and others were present in this event.
Then, the President went on an observational visit in Shanthikulam, Kilinochchi. Hearing the arrival of the President a huge crowd of people gathered in the place where they warmly welcomed the People.
The President who asked about the whereabouts of didn't forget to engage in a friendly conversation with them while they were thankful for the President for solving the long term development issues of those and bringing forth a considerable amount of development for the future if their children.
Several issues regarding the development problems of the area were also presented to the President where several deficiencies of the Shanthikulam Vidayalaya were also presented to the President by the Principle of the college. The President informed the North Central Governor Reginald Coorey to provide mandatory solutions for these issues.
(President's Media)
Latest Headlines in Sri Lanka