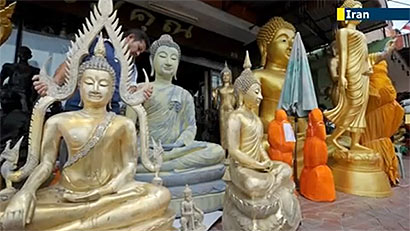 TEHRAN-An Iranian cultural official rejected some media reports alleging that he has called for a ban on the imports and sales of Buddha stautes in Iran, saying that his remarks have been "misquoted".
Some media reports have recently quoted Secretary of the Headquarters for Supporting and Protecting Cultural Works Saeed Jaber Ansari as saying that the statutes which represent the saints, beliefs and values of other religions than Islam, specially the Buddha Statutes, should be taken away from shop windows and their imports to Iran should be banned.
Speaking to FNA on Tuesday, Jaber Ansari strongly rejected such reports, and stressed that they are just the result of misinterpretations.
"Unfortunately, my remarks have been misinterpreted," he said, and further explained, "I just meant the illegal imports of certain cultural works and items and in violation of the customs (rules and regulations)."
"From our point of view, disrespect for the beliefs of other religions is unacceptable," he reiterated.
(Courtesy: DM Online)