Iranian ship flees detention in Sri Lanka
Posted by Editor on January 18, 2013 - 8:17 am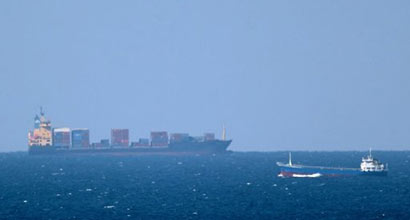 (Reuters) – An Iranian-flagged cargo ship has fled Sri Lanka's waters after weeks of detention by its navy, acting on a court order obtained by Germany's DVB Bank (DVBG.F), officials and a lawyer acting for the bank said on Thursday.
The Sri Lankan navy last week fired warning shots to prevent the MV Amina from leaving but said that late on Wednesday the vessel made its departure in rough seas.
"If the ship is beyond 12 nautical miles from our shores, then we can't do anything according to U.N. laws, unless the ship has committed crimes in our country," Sri Lankan Navy spokesman Kosala Warnakulasuriya said.
"We tried to communicate and asked her to stop, but without responding to anything, she had gone."
This bank's attempt to seize ships to settle claims of millions of dollars in unpaid debts shows the growing difficulties facing Iran's fleet, which the Islamic Republic relies on for trade.
"The Iranians are having an increasingly hard time, especially with their oil revenues hit by sanctions," a ship industry source said. "Their fleet will face more heat, with the U.S. increasingly watching their every move."
Western sanctions have cut Iran's oil revenues by half in the last year and battered the economy as the rial has crashed in value. They aim to starve Tehran of funds that might be channelled into expensive nuclear weapons programmes, but Iran says its atomic work is for peaceful purposes.
"The ship Amina has broken the arrest; that is a very unusual move," a DVB Bank spokeswoman said. "DVB is in talks with IRISL to find out how to further proceed now."
MORE SEIZURES
The Amina is managed by Tehran-based Rahbaran Omid Darya Ship Management, which the European Union and United States have said is a front for Islamic Republic of Iran Shipping Lines (IRISL), Iran's biggest cargo carrier.
IRISL has faced Western sanctions for years based on accusations of transporting weapons, a charge it denies.
The DVB spokeswoman said the bank was seeking to seize two more Iranian ships after obtaining an order from a Singapore court.
"The bank is trying to recoup as much as they can. I would imagine the repayment process will be complex," a second ship industry source said.
IRISL officials told Reuters earlier on Thursday the ship was owned by a private company and that they could not discuss the matter. Rahbaran Omid Darya Ship Management could not be immediately reached for comment on Thursday.
The Amina was seized in December after DVB Bank obtained an order on December 12 from the Colombo High Court to hold the vessel. Court documents showed that DVB Bank sought to recover millions of dollars.
"It has broken arrest and now it's a rogue ship and it has gone to Indian waters," said a lawyer for Neelakandan & Neelakandan, a Colombo-based legal firm acting for DVB Bank, who declined to be named.
The second shipping source said, "The Amina's escape just shows the pressure the Iranians are under at the moment. It's also desperation given the risks to the crew."
Foreign companies have cut ties with Iran's shipping sector for fear of losing lucrative U.S. business. A ban on EU ship insurance provision and the exit of certifiers from Iran – vital for access to ports – have added to woes for Iranian ship firms.
It was not possible to immediately confirm the exact location of the ship. Tracking data last showed it sailing away from Sri Lanka into the Laccadive Sea, a waterway bordering India.
"We have alerted the nearest coast guard vessel. Efforts to track it are on," Jacob Thomas, director of ports in the Indian state of Kerala, told Reuters.
An arrest occurs when a ship is detained by a court order to secure a maritime claim. The arrest may ultimately result in a judicial sale of the ship to pay the claim.
IRISL has tried to dodge sanctions by changing its flags and setting up front companies, the U.S. Treasury and the EU have said. Last year IRISL Managing Director Mohammad Hussein Dajmar said that if pressure from Western sanctions continued, the group would face increasingly grave financial problems.
Sri Lankan officials said there were 24 crew members on the ship, including eight Indians who were returned to their home country after the arrest. Iranian crew members were left aboard and a shipping agent provided them with food and other supplies.
An Iranian official in Colombo said the embassy was not aware of any ship being held by Sri Lankan authorities.
When asked about the ship, Sri Lanka government spokesman Keheliya Rambukwella said he had no knowledge about it. Both could not be reached later on Thursday for further comment.
It was not clear what cargo the Amina was carrying. Vessels of its size typically carry 60,000 to 70,000 tonne cargoes including grains.
Reuters
Latest Headlines in Sri Lanka