Iraq Seeks to Strengthen Relations with Sri Lanka
Posted by Editor on September 6, 2013 - 10:01 am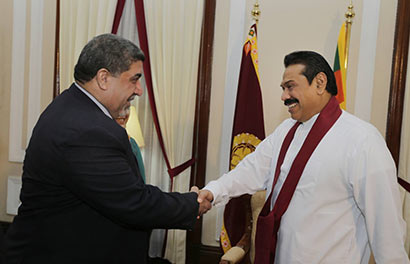 Iraq's Labor and Social Affairs Minister Mr. Nassar al-Rubaie called on President Mahinda Rajapaksa this morning (05th) at the President's Office.
President Rajapaksa, remembering his own numerous visits to Iraq decades ago, said relations between the two countries must be strengthened to the level they were many years ago. Minister al- Rubaie agreed and thanked the President for re-establishing diplomatic ties with Iraq.
Minister al-Rubaie also requested for Sri Lanka's assistance in the construction sector. While the Minister pointed out the great need in Iraq for new structures, President Rajapaksa said Sri Lanka has a very experienced construction sector and that businesses could make good use of this opportunity.
Minister of External Affairs Prof. G.L. Peiris extended an invitation to Iraq to send a high-level delegation to the Commonwealth Business Forum (CBF) that will take place on the sidelines of the Commonwealth Heads of Government Meeting (CHOGM) 2013 in November. Minister al-Rubaie accepted the invitation and agreed to send a delegation.
Ambassador of Iraq in Colombo Mr. Kahtan Taha Khalaf Kali accompanied Mr. al-Rubaie, along with several other high-level officials from Iraq.
Minister of Foreign Employment Promotion and Welfare Mr. Dilan Perera, Minister of Labor and Labor Relations Mr. Gamini Lokuge and Secretary to the Ministry of External Affairs Mr. Karunatilaka Amunugama were present during the discussion.
(Courtesy: President Media)
Latest Headlines in Sri Lanka