Men jailed for 'execution-style' murder
Posted by Editor on September 6, 2013 - 10:06 am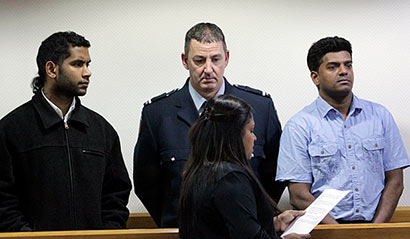 Two Sri Lankans who carried out an "execution-style" murder in retribution for a love affair have been jailed for life terms of at least 17 years.
The two men were convicted at a trial in July, with the jury finding them both guilty of what the Crown described as "an execution-style" slashing of the throat of their countryman, Sameera Madurangana Manikka Battelage, in North Canterbury on February 23 last year.
Thuvan Prawesh Sawal, 24, and Mudiyanselage Viraj Wasantha Alahakoon, 35, a jeweller, were convicted of murder and arson at the end of the 21-day trial. Alahakoon was also convicted of assaulting a woman with scissors by cutting her long hair, and assaulting her.
The trial was told that Battelage had had a sexual relationship with a woman who Alahakoon knew. The woman gave evidence at the trial before Justice Whata in the High Court in Christchurch.
Evidence was given that Battelage had died of a series of wounds to the throat and chest before his body and the house where he lived on an Oxford farm were set alight using petrol that had been taken along by the two attackers.
The two had gone with Battelage to the Oxford Workingmen's Club, where they were recorded on security video arriving, drinking together and watching cricket on television on the night of the murder.
Crown prosecutor Brent Stanaway said it was a planned and premeditated murder.
There had even been a "dry run" by the two accused, travelling to Oxford with petrol, a few days before the murder, when they found he was not home.
Arson of the farm house, to destroy forensic evidence, was a serious aggravating factor because of the impact it had on the house's owners, he said.
Defence counsel for Alahakoon, Pip Hall, QC, said provocation was still in the background as a factor in the case.
He said there had been an "execution-style slashing of the throat", but the intention to kill may have only been formed close to the time of the act taking place.
Defence counsel for Sawal, John Brandts-Giesen, said his client had no significant motive for the murder, and there had been a suggestion that he had been "encouraged by Alahakoon into this murderous transaction".
His client would be deported at the end of his sentence.
Chris Reilly, who owns the Oxford Pastures dairy property with his wife, told of trying to enter the burning house to try to rescue his farm employee, Battelage, but being driven back by smoke and heat.
He described the farm worker as a gentle and kind person with an affinity for animals.
He told the court: "We struggled with the knowledge that such an evil act was committed against such a gentle person."
Outside court, Reilly said he was "very happy" with the sentence, but no jail term was long enough for killing someone.
"We hope this hasn't cast a shadow on the rest of the Sri Lankan community that live here in New Zealand because they are wonderful people.
"We just hope this act hasn't affected New Zealanders' appreciation of those people."
His wife Odette said a blessing on the farm would help bring some closure.
"This was a premeditated, brutal execution of a really nice guy so I think closure and healing will take a really long time."
She had "beautiful memories" of a passionate gardener and cook who loved children.
"Unfortunately these guys were hell-bent on destruction.
"I hope they enjoy the wonderful hospitality of the New Zealand Corrections Department."
The couple planned to travel to Sri Lanka to pay their respects to his wider family. They also want to do something to improve New Zealand and Sri Lankan relations.
"There's thousands of good honest Sri Lankans that have settled in New Zealand and contributed massively to not only the dairy industry, but the economy as a whole."
Detective Senior Sergeant Michael Earl said police were happy with the sentence. The investigation was complex and challenging, he said.
He thanked the Oxford and Sri Lankan communities who provided information to police.
"We're very happy with the outcome and hopefully these people can try and start moving on with their lives."
Nilantha Chandrasena, Battelage's 34-year-old brother, who has New Zealand residency, told of the impact of the murder on the family.
"It feels very lonely being here without him," he said.
Justice Whata said the two accused had been close friends. They had blamed each other at trial for the murder and arson.
Alahakoon continued to deny the murder and arson at his pre-sentence interview, and still blamed Sawal.
Sawal had acknowledged links to the Mongrel Mob, and had been involved in four incidents of assault in prison.
At their sentencing today, Justice Whata imposed terms of life imprisonment on both men, with minimum non-parole terms of 17 years.
He said the non-parole term was warranted because of the degree of planning, and because of the callousness and brutality of the murder.
The murder had been "clearly calculated", although the planning had been incompetent.
He believed the evidence meant it was open to him to conclude that Sawal delivered the fatal cut to the throat, but the men were equally culpable in a planned endeavour.
Aspects of the case remain suppressed. (Source: stuff.co.nz)
Latest Headlines in Sri Lanka