Is Bond money laundered?
Posted by Editor on February 12, 2017 - 9:57 am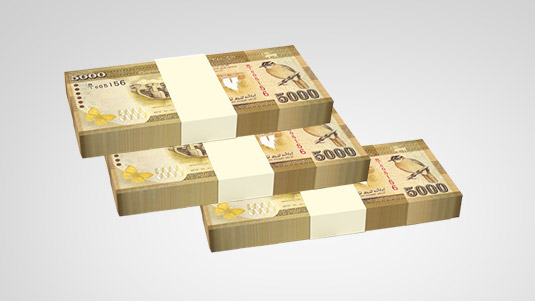 Speculation is rife in Colombo's corporate circles about a plan to restructure SriLankan Airlines and Mihin Lanka as a Public-Private Partnership (PPP) venture featuring the Texas Pacific Group (TPG) of America as the private collaborator. It is learnt that TPG has already been doing business in Sri Lanka with an investment of US$ 117 million in the Union Bank (UB) in Colombo.
TPG is predominantly a US-based investment company and prominent in the Union Bank's financial statements related to the third quarter of 2016. The UB report also states that Culture Financial Holdings Company Ltd has purchased 70% of the overall number of shares.
It is also learnt that 2.73% of the shares of National Development Bank (NDB) have been purchased by Perpetual Equity and Union Bank jointly. They are placed 12th in the NDB's shareholder listing.
The government had previously announced that, when tenders were called for restructuring SriLankan Airlines and Mihin Lanka, 10 organizations had submitted bids and during the initial round the three organizations selected were Peace Airways, TPG and Super Group Partners. These three companies are from Sri Lanka, America and the Maldive Islands respectively.
Deputy Minister of State Enterprises Development EranWickremaratne has stated that, from among these three companies, TPG had been picked as the most promising partnership prospect to partner in the restructuring of SriLankan Airlines and Mihin Lanka, but no final decision has yet been made.
A committee including the Chairman of SriLankan Airlines Ajith Dias, Consultant to the Ministry of Finance R. Paskaralingam, Secretary to the Ministry of State Enterprises Development Ravindra Hewavitharana, and Prime Minister's Adviser Charitha Ratwatte was appointed by the government to make recommendations to enable SriLankan Airlines and Mihin Lanka Airlines to be converted into a public-private partnership venture. It is further learnt that there are similarities between the address of the Perpetual Equity Company and the address of Perpetual Treasuries Company which belong to the son-in-law of former Governor of the Central Bank Arjuna Mahendran.
Accordingly it is alleged that there is some connection between these two institutions.
Against such a backdrop, the main trade unions of employees of SriLankan Airlines and Mihin Lanka emphasize that restructuring should be carried out in a transparent manner. Janaka Wijayapathiratne, the President of the Sri Lanka Nidahas Sewaka Sangamaya which comprises 4000 members employed by SriLankan Airlines and Mihin Lanka has sought a discussion with President Sirisena with the intention of ensuring that this restructuring process is carried out in a transparent manner. He has sent two letters to the Prime Minister as well seeking an appointment with him for a discussion on the issue. However he said he has not yet received any response from them. If an attempt is made to restructure the airline companies sans any transparency the President of the Sri Lanka Nidahas Sewaka Sangamaya told Ceylon Today that its members will launch a one-day token strike against the decision and try to make an impact.
He added that since the Katunayake Airport is closed for 8 hours during the day time approximately ten thousand passengers obtain airport service at night and if a one-day strike is launched it would take over one week for affairs at the airport to return to normal.
Meanwhile, General Secretary of the Sri Lankan Airlines Nidahas Sewaka Sangamaya, Hasantha Yasaratne told Ceylon Today that since neither the people nor the trade unions connected to the institutions have been informed in any way about the company selected for the privatization project, it had given rise to serious doubts about transparency.
He also said that it was obvious that this restructuring process was being done under a cloak of secrecy and added that very serious doubts have arisen in connection with another rumour that a company has come forward to purchasing the national airline companies using monies fraudulently earned in the Colombo securities market.
Yasaratne added that the trade union would launch a strong protest against any plan to transfer control of these two national airline services to a company that is probably using fraudulently earned income from Treasury Bond transactions.
He also emphasized that if the government goes ahead with plans to carry out these dealings sans clear transparency, the Airport Joint Employees Alliance will launch powerful labour action against it.
(Source: Ceylon Today – By Denagama Dhammika Ranaweera)
Latest Headlines in Sri Lanka