IS IT ETHICAL TO CELEBRATE VICTORY WITHOUT GEN. FONSEKA, ASKS ROSY
Posted by Editor on June 19, 2010 - 3:30 am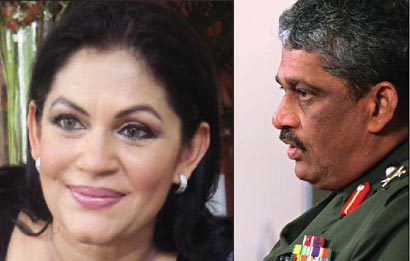 June 18, 2010: All parliamentarians received invitations for the heroes day celebration, but not General Sarath Fonseka, the person responsible for the victory. Is it ethical, asks parliamentarian Rosy Senanayake.
Ms. Senanayake, the UNP MP, expressed this view at a meeting held in the Kosgama area in Awissawella yesterday.
"We are all very happy that our brave soldiers, who risked life and limb, were able to militarily defeat the LTTE and emerge victorious. All parliamentarians including myself, received invitations. However, General Sarath Fonseka, the person who is responsible for this victory and whose victory we must in fact celebrate, did not receive an invitation.
This then is the ethical government," she said.
Commenting on the cost of living, Ms. Senanayake said that the government, which slashed taxes on motor vehicles, had inconvenienced the public by imposing taxes on essential goods.
"When an individual visits a shop to purchase yams or rice to fulfill his daily meal requirement, he will have to return home with a motor vehicle.
"Why? Because the taxes on motor vehicles have been reduced by 50 per cent. They are putting you into great difficulty by imposing taxes on bread, dhal, sugar and milk powder. This is the reality," said Rosy Senanayake, UNP MP.
News First
Latest Headlines in Sri Lanka